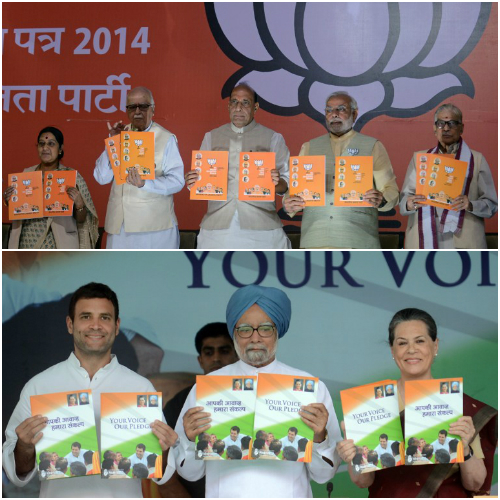 The BJP seems to be sweeping Madhya Pradesh where it is leading in 26 out of the total 29 Lok Sabha seats as per initial trends. BJP's Sushma Swaraj was leading by 61,983 votes over her Congress Lakshman Singh in Vidisha. In the state capital, Alok Sanjar of BJP is leading by 5,373 votes over Congress' P C Sharma.
Union ministers and senior Congress leaders Jyotiraditya Scindia and Kamal Nath were leading by 13,388 and 1,224 votes from Guna and Chhindwara seats respectively. BJP was ahead of Congress in Balaghat, Betul, Bhind, Damoh, Dewas, Dhar, Gwalior, Hoshangabad, Indore, Jabalpur, Khajuraho, Khargone, Mandla, Mandsour, Morena, Rajgarh, Ratlam, Rewa, Sagar, Shahdol, Sidhi, Tikamgarh and Ujjain. Congress' Ajay Singh was leading by 3,164 votes in Satna iver BJP's Ganesh Singh, according to the trends available till 10 am.
BJP had won 16 seats, Congress 12 and BSP one in 2009 Lok Sabha polls.
Ruling BJP is leading in 23 constituencies in Madhya Pradesh while the opposition Congress is ahead only in five constituencies of Chhindwara, Guna, Satna, Gwalior and Balaghat. Out of total 29 seats, the trend for state capital Bhopal is not available so far. BJP nominees Sumitra Mahajan and former prime minister Atal Bihari Vajpayee's nephew Anoop Mishra are leading from Indore and Morena seats, respectively.
Among Congress candidates, Union ministers Kamal Nath and Jyotiraditya Scindia are ahead of their rivals in their respective Chhindwara and Guna constituencies, while Ajay Singh, Hina Kawre and Ashok Singh are leading from Satna, Balaghat and Gwalior seats, respectively. Congress state unit president Arun Yadav and former Union minister Kantilal Bhuria are trailing in Khandwa and Jhabua-Ratlam constituencies, respectively.
BJP's Alok Sanjar is leading by 19,733 votes against PC Sharma (Congress) in Bhopal. Dr Bhagirath Prasad, who joined BJP a day after getting nomination from Congress from Bhind seat, is ahead of his nearest rival in Bhind by 18,128 votes. BJP's Sushma Swaraj is ahead by 88,231 votes against Laxman Singh (Congress) in Vidisha seat. Chintamani Malviya (BJP) is leading by 67,832 votes against Premchand Guddu (Congress) in Ujjain.