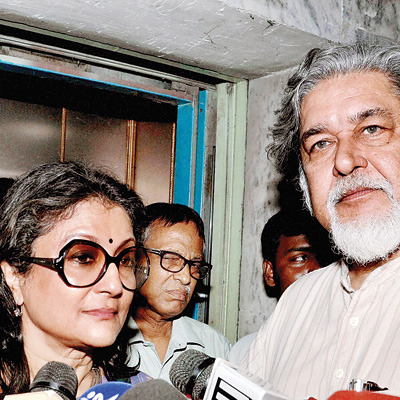 Enforcement Directorate on Monday questioned film actor and director Aparna Sen in connection with investigation into money laundering in the multi-crore Saradha ponzi scam case. West Bengal textiles minister Shyamapada Mukherjee was also called separately and their statements were recorded by the ED at its Salt Lake office.
The 68-year-old national award winner, who came accompanied by her husband Kalyan Ray, professor of English at a New Jersey college, was summoned because of her knowledge of the affairs of the now busted Saradha group where she was editing Paroma, a women's magazine.
Sen told the ED officials that she had no knowledge about the inner workings of the activites of Saradha including operations of the ponzi schemes. The state minister was called for his alleged involvement in selling a mini-cement plant by him to Sudipta Sen, mastermind of Saradha at an inflated price. The ED had earlier questioned celebrities like Mithun Chakraborty for being involved as a brand ambassador for one of Saradha's many ventures.
Are these celebrities involved in the Saradha scam?
Unlikely. While the questioning will continue and more people involved in the affairs of Saradha will be summoned, celebrities like Aparna Sen or Mithun Chakraborty weren't involved in the internal workings of the group. They all worked for Saradha against fees or salaries. But as Sudipta Sen was a secretive person, questioning these celebrities might throw up vital bits of knowledge about Sudipta Sen and any secrets that the kingpin might have shared with them.
How the celebrities got involved in Saradha?
In a bid to maintain an elaborate facade of a conglomerate involved in multiple businesses from manufacturing to media to tours and travels, Saradha needed and employed well known people from the world of movies and television having mass appeal to popularise the ponzi schemes and attract and convince people to invest in them. The CID which was earlier handling the investigation had similarly called theatre activist Arpita Ghosh who was in charge of Saradha's planned TV channels and now a Trinamool MP.
Where are the politicians?
Shyamapada Mukherjee is the first politician interrogated by the ED till now. It is widely believed that several prominent leaders of Trinamool Congress actively participated in events organised by Saradha to make people believe that the ruling party in Bengal is firmly behind the group thus ruling out any chances of defaults. ED is believed to be in knowledge of the names of these politicians who are now likely to be called soon.
Who have been arrested so far?
Ever since the scam broke out in April last year, Sudipta Sen, his personal secretary Debjani Mukherjee and associate Arvind Singh were all arrested in Srinagar while on the run. Later some other key managers and also Kunal Ghosh, group editor of Saradha's all publications and once a close media contact of Mamata Banerjee have been arrested by state police.
How big is the scam?
As per latest ED estimates, about Rs2,000 crore was laundered but with 338 bank accounts and 224 companies used to siphon off the money raised from mostly poor people, the exact size of the scam is yet to be unearthed.