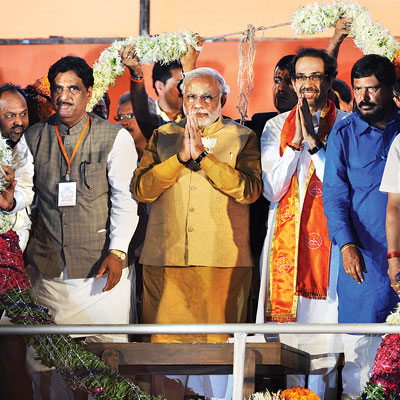 In a setback to Congress, Union Minister of State for Telecom and Shipping Milind Deora and Priya Dutt are trailing in their respective constituencies of Mumbai South and North North Central. In Mumbai South, Shiv Sena's Arvind Sawant has established a comfortable lead, polling 26,260 votes followed by 8,807 of Deora. AAP's Meera Sanyal has polled 1,670 while MNS' Bala Nandgaonkar had bagged 6,526 votes, as per initial trends.
In Mumbai North Central, Poonam Mahajan of BJP is leading over Priya Dutt by a margin of 7,895 votes. Poonam has polled 13,744 votes while Priya has got 5,849 votes. In Mumbai South Central, Shiv Sena's Rahul Shewale has established a lead of 12,961 votes over his Congress rival Eknath Gaikwad who has polled 6,488 votes. In Mumbai North East, BJP's Kirit Somaiya has established a comfortable lead over his NCP rival Sanjay Dina Patil. In neighbouring Thane district's Bhiwandi seat, Shiv Sena-BJP is continuing its good performance with Kapil Patil of BJP establishing a lead of 10,535 votes over his rival Vishwanath Patil.In Thane, Rajan Vichare of Shiv Sena has polled 19,438 votes as against NCP's sitting MP Sanjiv Naik who has got 15,057 votes. In Kalyan, Shrikant Shinde of Shiv Sena is leading over his MNS rival Pramod Patil by 3,354 votes leaving sitting MP Anand Paranjpye in the third place. In 2004 and 2009, Mumbai had backed Congress giving it and ally NCP 7 of 10 seats in Mumbai and Thane belt.
BJP-Sena combine leading in 42 of 48 seats in Maharashtra Mumbai, May 16 (PTI) The BJP-Shiv Sena led alliance looks set for its best ever performance in Maharashtra leading in 42 of the total 48 seats, according to trends till 11 am. BJP candidates are leading in 23 and Sena nominees in 19 seats. Congress, which contested 27 seats, is ahead in one seat while NCP, which contested 21 seats, is leading in three seats.
The notable BJP candidates leading included former party president Nitin Gadkari from Nagpur and the party's deputy leader in Lok Sabha Gopinath Munde, who is attempting to retain his Beed seat in Marathwada. Prominent among those trailing are Union minister Sushilkumar Shinde from Solapur, Chhagan Bhujbal from Nashik and Congress minister Narayan Rane's son Nilesh Rane, who is trying to retain the Ratnagiri-Sindhudurg seat in coastal Konkan.
Late BJP leader Pramod Mahajan's daughter Poonam Mahajan is leading from Mumbai North Central over Congress candidate Priya Dutt, who is sitting MP from that seat. In Baramati, after initial setback, NCP's Supriya Sule established a lead by 15,000 votes. In North Maharashtra, BJP is leading by 3,854 votes in Dhule and by 25,000 votes in Dindori. In Amravati, Shiv Sena is ahead by 5,831 votes. In Maval, Laxman Jagtap of PWP is leading. Kirit Somaiya of BJP is leading by 29,007 votes over Sanjay Dina Patil who has polled 16,155 votes. AAP's Medha Patkar is in the third position with 6,460 votes. In Pune, Anil Shirole (BJP) is leading by over 25,000 votes.
State Congress minister Shivajirao Moghe is leading in Yavatmal constituency while saffron party nominees have surged ahead in the Congress bastion of Vidarbha as per the trends available.
Moghe has secured 16,170 votes while sitting Shiv Sena MP Bhavana Gawali got 15,358 votes at the end of first round in Yavatmal. In Amravati, sitting Shiv Sena MP Anandrao Adsul is leading against his rival and NCP nominee Navneet Rana at the end of first round. BJP MP from Akola Sanjay Dhotre has secured 17,505 votes while Prakash Ambedkar of Bhartiya Bahujan Mahasangh got 12,080 votes at the end of the first round.
In Buldana seat, Prataprao Jadhav of Shiv Sena polled 23,667 votes while Krishnarao Ingle of Congress got 15,385 votes at the end of first round.