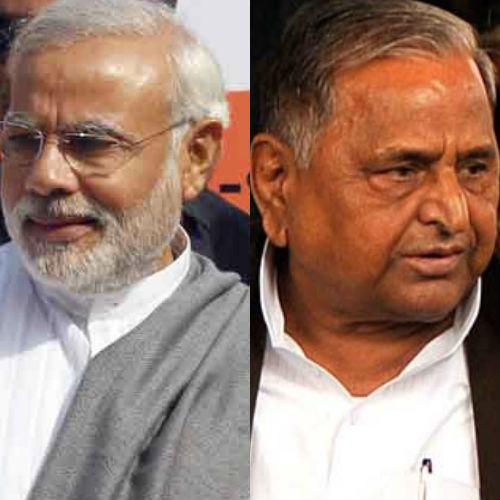 Late Ashish Bose, renowned demographer, coined the term 'BIMARU' to refer to the four under-developed states of Bihar, Madhya Pradesh, Rajasthan, and Uttar Pradesh in the 1980s. Later, Orissa was also included and the term was expanded to 'BIMAROU'. However, all the states have made a move since then, except UP and Mulayam Singh's statement on rapists tells us exactly why. "Should rape cases be punished with hanging? They are boys, they make mistakes.
We will try and change such laws," he said while campaigning for the national election. While these remarks are enough for Mulayam to qualify as a misogynist, modern India has never been short of such parochial stands.
The recent verdict by Supreme Court to re-criminalize homosexuality was backed by BJP. "Gay sex is unnatural and we cannot support anything that is unnatural",
Rajnath Singh
had said. Regional parties like Trinamool Congress and Samajwadi Party were indifferent to the idea of rescinding the section 377 of Indian Penal Code. Subramanian Swammy had stooped even lower, asserting that being gay is a 'mental disorder'.
BJP's manifesto too, has certain points that can go down as parochial. And parochial attitude does not preclude communalism. The manifesto talks about building a Ram Mandir within constitutional limits, which is an irony in itself; and cow protection finds a mention too. It emphasizes on the persecution of Hindus during communal riots, neglecting the persecuted Minorities. Therefore, insular and communal politics has always been at the core, however, the zeal may vary. As Ramachandra Guha said, 'Narendra Modi fighting elections from Varanasi is a gentler form of communalism while Advani's Rath Yatra was a fierce one.'
Subramanian Swammy recently tweeted, 'Remember that Babri Masjid was built by two foreign citizens Babar and Baqi. Foreigners have no right to property except due process.' The fact that this party is still harping on a 400-year-old issue and still endorsing the mayhem, which was created on 6 December 1992, speaks a lot about its 'progressive' attitude. BJP's RSS cadre has still not given up the idea of India being a Hindu Pakistan. This idea would now seem outdated even to my grandmother.

BJP's ally Shivsena has not been alien to this either. Every Mumbaikar is well acquainted with the belligerence of this party. In the 1980s, Bal Thackeray had called Muslims 'cancerous'. Later, he undertook a campaign to drive away South Indians from Mumbai with a slogan 'Lungi hatao pungi bajao'. Shri Krishna Commission report has held them responsible for the communal riots in Mumbai in 1992-93.
Having said that, the biggest culprit of the persisting communal politics is Congress. When one looks up to the likes of Golwalkar and Hegdewar, one cannot expect much; but Congress claims to carry forward the secular legacy of the likes of Mahatma Gandhi, Pandit Nehru, Sardar Patel, and BR Ambedkar to name a few. And at the same time, Sonia Gandhi appeals to the Muslims to vote strategically against the BJP.
It is astounding how the paradox escapes her mind. Even before the independence, Nehru had appealed to citizens to forget the entanglement of caste and religion and focus on the progre
ss made by science.
However, this constant churning of parochial politics, to secure the respective votebanks, throws up a question: What did liberal Indians do to deserve this brand of politics, which is a complete misfit in 21st century?
When friends gather, talk about yester years. After a few drinks, at least one person gets nostalgic and says, 'Wish we could go back in time.' Alas, our politicians are taking it too seriously.