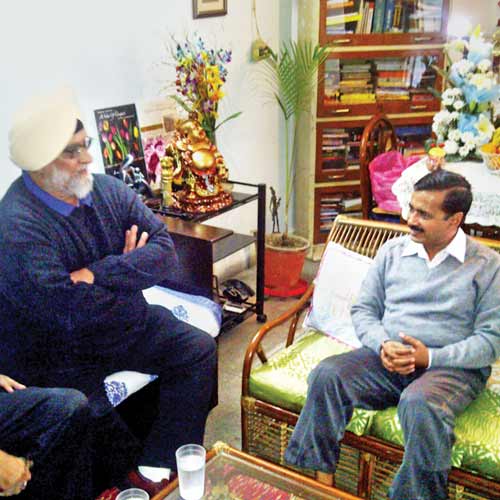 Today we had an opportunity to meet Arvind Kejriwal. What a fine and humble young man and an inspiration he is He is absolutely clear as to how he wants to wield the broom to clean corruption.
In the same vein we are serious about abolishing the proxy system from DDCA at any cost. With the SFIO (Serious Fraud Investigation Office) report having severely indicted DDCA on several counts, it is just a matter of time that law catches up with all these officials who have ganged up against cricketers, and have treated DDCA's resources as their paternal right.
Having spent long hours and years in cricket, we have had two occasions to literally pull ourselves up, and ask ourselves why we were not speaking up for cricket and cricketers. On both occasions, we have taken up the challenge and have not rested till we felt that we have done enough to pay back to the game that we have got out of it personally. After the first organised protest in 1979-80 when we players, helped by the cricket lovers and the media, rid DDCA of the dispensation led by the Mehras (then DDCA president) — the second is now.
We had launched our second freedom struggle in 2009, when Arun Jaitley assured us that he would hand over cricket to us by forming a Cricket Improvement Committee (CIC). He created a CIC for namesake, but did not even give us a room to sit. He killed two birds with one stone. He bought peace with us, and simultaneously bargained with a difficult office bearer to climb down.
Surely, politicians can outthink novices like us.
Kirti Azad has led the way for us without being scared of the consequences. After he took up the cudgels against DDCA management, and DDCA hit back against him by recommending to the BCCI to stop his one-time payment, all ex-internationals rallied behind him to seek an answer from an arrogant president.
After our association threw its hat in the electoral ring in DDCA, we have been deluged with support from cricketers, cricket lovers and the media. Many of our old friends in the media have been asking us why we do not take steps to get rid of the proxy system which is at the root of all ills in sports bodies in general and, DDCA in particular. We accept their viewpoint and wish to confirm that one of the reasons for us getting into the muddied waters of DDCA is to take steps to remove the proxy system.
We have already taken up this matter with the corporate affairs minister, Sachin Pilot, and shall be proceeding to seek permission of the central govt u/s 399(4) of the Companies Act, to move the Company Law Board u/s 397/398, to rid DDCA of this menace. Secondly, money which should have been used on cricket and for welfare of cricketers has been misappropriated. Old cricketers/umpires/coaches/officials are languishing in their old age for want of medical facilities whilst some DDCA officials have become crorepatis overnight.
Delhi's matches are played at Roshanara grounds despite Ferozeshah Kotla having been awarded the first prize for the best wicket in the country. Players from outside Delhi are being brought in, on extraneous considerations. There are scores of instances of outright favouritism in Delhi selections. Nothing has changed. The president has no time or even understanding of how to sort out this mess. The AGM is a farce. Questions are never answered directly. For instance, why should DDCA spend Rs1.40 crore to fight 55 cases annually, mainly against its own members and clubs? Can we not reduce our annual electricity bill from Rs1crore?
What afflicts DDCA as indeed all state associations? Talent surfaces not as a result of focused efforts, but despite it. Fudging of age is an official policy. The cricket league does not give enough space to school and college cricket, or to unearth real talent. There are no talent scouts to scout for talent. Rs30 crore is wasted on non-essentials and is misappropriated by presenting fake or exaggerated bills. Delhi cricket does not have its own stadium and can be evicted from Kotla since it is government land. It is high time that we have a stadium of international standards.
Why then are we contesting elections when many people know that we will lose a proxies-driven contest. Are we trying to put the clock back? Are we escapists or simple lifers? We are neither.
Win or lose - we must fight. Cricket certainly deserves better. And, each time we think of a youngster toiling in the 45 degrees heat or 2 degrees cold, we are even more determined to make an effort to make a difference for his sake - we shall win even if we lose, and the powers that-be will lose even if they win. The point is will you support us?