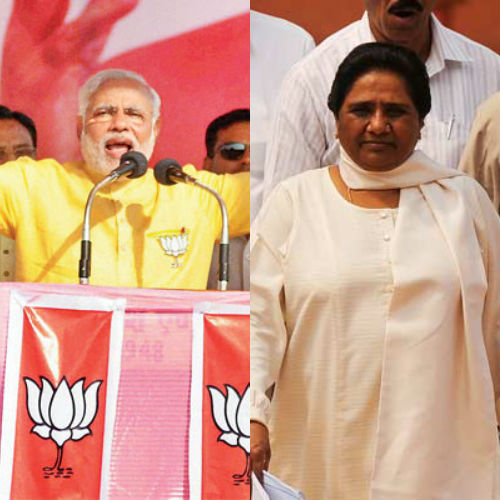 After Narendra Modi and Priyanka Gandhi's war of words over 'caste remarks' escalated, Bahujan Samaj Party (BSP) leader Mayawati entered the fray and attacked BJP leader for his alleged distortion of statements.
She questioned his disrespect for the community and also questioned his caste in general. She also took a jibe at Modi by asking him to enlist developmental activities that he has undertaken for the community.
The war of words started when Priyanka Gandhi called Narendra Modi's politics as 'Neechee rajniti' (dirty politics). Narendra Modi retorted strongly to the statement but he changed the context and took the 'politics' bit into 'community and caste' bit thereby. "I cannot deny I was born into a 'neechi jaati' (backward caste) but is that a crime?" asked Modi at a rally in Domariyaganj in Uttar Pradesh.
After this, BSP's Mayawati accused Narendra Modi of playing caste card to gain votes in the Lok Sabha elections. She said that Modi had distorted Priyanka's comments to leverage support from the marginalised community.
"I was expecting Congress to react and put things in right perspective but the party seems to have surrendered knowing that it is losing elections. SP which claims itself to be representative of backward classes has also not reacted for the reasons unknown. So, I took the responsibility to make people aware of how Modi is taking them for a ride by playing backward caste card and dirty politics (ghinauni rajniti)," said Mayawati in an attack on BJP's PM nominee.
"Modi has been saying that he belongs to backward caste and is being targeted for it. I had asked earlier also and now demanding again that Modi should tell people to which caste he belongs. Is he a Barber, Pal, Kushwaha, Rajbhar, Lonia-Chauhan? Or, he is not an OBC at all," she questioned Modi's claims of belonging to lower caste.
She also had questioned Modi not stepping away from Baba Ramdev's statements against the backward communities. Ramdev had targetted Congress' scion Rahul Gandhi and stated that he goes for honeymoon and picnic to dalit household.
In India, where caste politics is big and parties are trying to out-do each other and garner votes, Modi's statements are not anything different.
This tactical turn of words by Modi proves his political acumen in leveraging instances and changing the political tone of events but Mayawati's allegations of Modi short-changing the statements to suit his needs hold true. While a 'low-grade politics' refers to statements and barbs, turning it into 'low-caste' changes the tone of general rhetoric.
Earlier, too, we have had instances where leaders have tried communalising elections on Hindu-Muslim divide. For instance, take Abu Azmi who said that Muslim voters should only cast their vote for Samajwadi party. He went a step further and said that people who do not vote for SP aren't real muslims and their DNA should be checked.
Prior to this, another SP leader Azam Khan had ruffled Election Commission by stating that only Muslim soldiers have fought at Kargil war. The monitoring body placed a blanket ban on him but that did not defer him. He went ahead and challenged Election Commission by stating that the body was not equivalent to god.
Hence, Mayawati's recent allegations against Narendra Modi hold relevance and here's why:
BSP is the biggest threat to BJP in Uttar Pradesh. Though Samajwadi party has been tragetting Narendra Modi and trying to garner more votes, it maybe BSP that will triumph at the end.
BSP's Mayawati's legion of followers include people from different age and caste groups, especially marginalised communities who form her vote-bank. BJP is trying to break into this core group and divide votes.
Samajwadi party has had many failures to its credit during its governance. From the hyped 'Saifai mahotsav' that saw the state government waste 'corpus-fund' to ignoring 'Muzzafarnagar violence victims in shelter camps, SP government has been targetted time and again over its inability to function with public welfare in mind.
Add to this, SP supremo Mulayam Singh Yadav's comments 'Boys will be boys and rape punishment should not be death', and the party's fortunes in Lok Sabha elections went down the drain.
This can only act as an advantage to Mayawati who has been campaigning relentlessly and her party has tried to balance the caste equation in the state by giving representation to all the sections of society.
Her party has fielded 17 Scheduled Caste (SC) candidates from the reserved parliamentary constituencies, while the number of Other Backward Caste (OBC) and Muslim candidates is 15 and 19 respectively.
The upper caste candidates have been given 29 nominations, including 21 and 8 for Brahmin and Kshatriya candidates respectively. The total number of women candidates stand at 7 seats.
UP is a highly fragmented demography spread over 75 districts and distinct geographical regions, namely Purvanchal (eastern UP), Bundelkhand, Awadh (central) and western UP.
Mayawati had said that the party had decided to fight the poll on its own. The coming election would be a fight between two ideologies of secularism and communalism, she had said taking a jibe at BJP's Narendra Modi. "The candidature of BJP prime ministerial nominee Narendra Modi from Varanasi was aimed at stoking communal forces, but BSP would not let BJP and National Democratic Alliance (NDA) ride to power," she stated in her poll rhetoric.
She had also urged Election Commission to keep vigil on BJP and SP as the two parties could vitiate the peaceful election process for electoral gains.
Hence, it is BSP and not SP that may emerge victorious in Uttar Pradesh. The real battle on the battle-ground for BJP is with Mayawati and her party and Narendra Modi needs to be careful post his 'casteist remarks' if he wants to retain votes without getting into the communal way of politics.