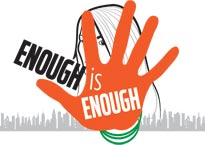 Lok Sabha speaker Meira Kumar on Wednesday said the country needed a new and stronger law to ensure safety for women and to deal with rapists.
"A new law should be brought in and must get passed to ensure the safety of women. The laws at present are not enough, we need stricter laws," Meira Kumar told reporters outside parliament.
"There is an urgent need to improve the law and order situation, especially when it comes to the safety of women," she said.
Meira Kumar called the 23-year-old woman who was raped Sunday night "courageous" for resisting the rapists and said everyone was praying for her speedy recovery.
"We all wish and pray for the girl to recover soon. She is a courageous girl, and we are all worried because such incidents have been taking place in a society where women are worshipped," she said.
The victim battles for life at Delhi's Safdarjung Hospital after at least six men raped her in a moving bus and dumped her on the road along with her male friend. Four of the accused have been arrested.