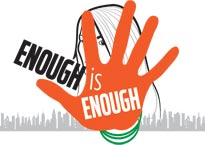 Protestors, mostly school children along with teachers, activists and concerned citizens arrived at Rashtrapati Bhavan on Saturday morning, demanding justice for the 23-year-old Delhi gang-rape victim.
Earlier today, the protestors gathered in large number at the India Gate and marched toward Rashtrapati Bhavan, shouting slogan 'we want justice' and demanding capital punishment to the perpetrators of the heinous crime.
The protests had literally breached security and reached President Pranab Mukherjee's doorstep on Friday, with angry demonstrators going right up till the gates of Rashtrapati Bhavan and one even managing to enter the complex.
Former Army chief General VK Singh also joined the young protestors at India Gate this morning.
He nation witnessing similar protests at various places in the capital form he last six days.
On Friday, the capital witnessed massive protest at Rashtrapati Bhavan, Jantar Mantar and near Safdurjung hospital through out the day demanding speedy and stringent punishment to the rapists.
Two days ago in a similar protest, around 200 people had gathered near North Block, and dispersed only after Home Minster Sushilkumar Shinde agreed to meet a delegation of Jawaharlal Nehru University Students' Union students.
According to doctors, the 23-year-old rape victim battling for life, showing early signs of sepsis, a potentially deadly medical condition characterised by a whole-body inflammatory state caused by severe infection.