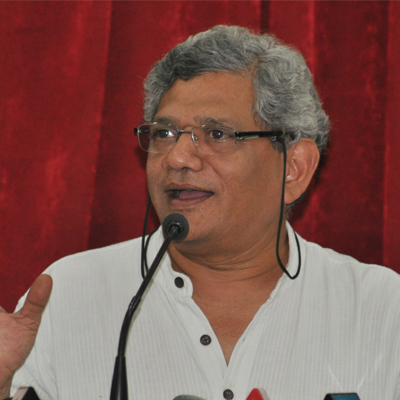 CPI(M) on Wednesday alleged large-scale booth capturing, rigging and violence during the third phase of polling in West Bengal, saying the incidents amounted to "distortion of democracy" through terror and violence.
Neither were central forces deployed, nor was video recording carried out in almost 98% of the booths which went to polls on Wednesday, senior party leader Sitaram Yechury told reporters after meeting Chief Election Commissioner VS Sampath here.
Demanding repoll in around 800 booths spread over eight of the nine Lok Sabha constituencies where polling was held, he said, "Today was a day of distortion of democracy in West Bengal through violence and terror. This is not acceptable."
Observing that today's poll-related incidents were "a serious indicator of things to come" in the next two phases of polling in West Bengal, Yechury said "some heads will have to roll. Some people have not discharged their responsibilities." When pressed further as to whose heads should roll, he said the Election Commission should investigate as they have "a central observer and a machinery" to do so.
While central forces were available in sufficient numbers but not deployed in most of the places by the state administration, "out of 17,330 polling booths which went to polls, only 324 had video surveillance of some sort," he said, adding all this was done "with an intent of manipulating the elections." Yechury, who met the CEC along with his Politburo colleague SR Pillai, said,
"If such a situation is not corrected and deterrent action is not taken, then there will be more violence, intimidation and rigging in the next two phases of polling in a substantial number of seats." CPI(M) demanded conducting of repoll in over 800 booths in eight constituencies "with proper deployment of central paramilitary forces to ensure free and fair polling."
It also demanded "proper process to identify and apprehend those responsible for such grave malpractices", saying that numerous incidents video-recorded by several news channels should be taken cognisance of by the poll panel.