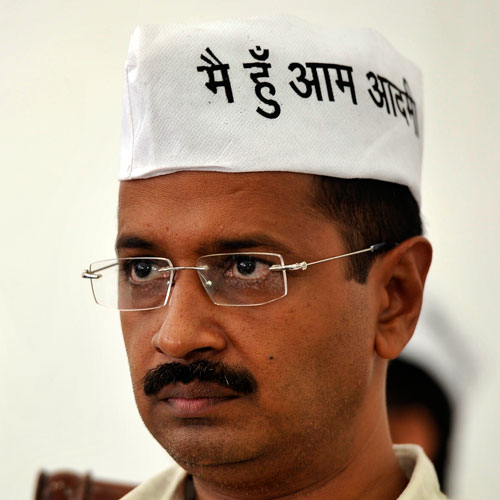 Congress on Friday came down hard on AAP leader Arvind Kejriwal accusing him of "deceiving" people on waiving 50% electricity bills of consumers who did not pay their dues as part of AAP's power agitation.
"As Chief Minister, Kejriwal had promised to waive pending bills of over 24,000 consumers. But yesterday, the government informed the Delhi High Court that AAP government did not make any provision for it," chief spokesperson of Delhi Congress Mukesh Sharma said.
The city government yesterday took a stand contrary to the Cabinet decision of the then Kejriwal dispensation in the High Court saying it cannot waive 50 per cent of the power bills of the defaulters as no provision for it was made.
On February 12, a Cabinet meeting presided by the then Chief Minister Kejriwal had decided that consumers who did not pay their electricity bills as part of AAP's agitation against power tariff hike will have to shell out only half of their total dues.
The legal department of the government had said that such a waiver can only be given prospectively and not retrospectively as per the statute, Electricity Act, 2003.
"Kejriwal had made a number of announcements when he was the Chief Minister. But most of them were misleading and could not be implemented," said Sharma.
The Delhi Congress leader also alleged that Kejriwal refused to furnish a bail bond in a criminal defamation case and preferred to go to jail to get public sympathy.
"He had apprehension that some MLAs may desert the party.
AAP's support base was eroding and that is why he chose to go to jail. The people of Delhi have realised his tactics," Sharma alleged.
The Congress leader said Kejriwal has resorted to "theatrics" as assembly election in Delhi may take place soon.
Kejriwal's jail stay was extended till June 6 today as he remained adamant on not furnishing bail bond in a criminal defamation case against him by BJP leader Nitin Gadkari, with a Delhi court chiding him for "legal illiteracy" and asking him to be "sensible".
The magistrate, however, said Kejriwal was told to give a bond only and it was a legal procedure to furnish bonds for bail.
"You (Kejriwal) have been summoned as an accused. You are not a convict. You will face trial...you cannot say that I am innocent and I will not give bond. This is a procedure," the magistrate said.
On May 21, the court had granted bail to Kejriwal in the defamation complaint saying the offence under Section 500 of the IPC was bailable and had asked him to furnish a personal bond.
He, however, was taken into custody after he refused to give the bail bond, saying the case was politically motivated and he does not wish to seek bail. He had said that he was ready to give an undertaking that he would appear in the court whenever required.
As soon as the proceedings began today, Gadkari's counsel contended that court should follow the set procedure of law and Kejriwal cannot make a political speech in the courtroom.
Kejriwal, however, told the court that initially it had on May 21 said that he would be released on undertaking but later on he was asked to furnish bond.
At this juncture, the court observed that there were lots of "miscommunication and misunderstanding".
"You were told to give a bond only. You were not told to give Rs 10,000 straight away. I had given you bail but you did not file bond," the magistrate said.
"Just because you have been summoned as an accused that does not mean you are a convict," the magistrate said, adding, "bond is just a contract of appearance."
Regarding Kejriwal's submission that he had been earlier released on undertaking by other courts in similar cases, the court said, "they were all courts of metropolitan magistrates which have released you on an undertaking." "I am not bound by these orders. You can challenge my order in higher courts. You have the right to challenge it," the magistrate said.
The magistrate also said that the court had only asked the AAP leader to give a personal bond and not surety bond as it was clear that Kejriwal would not abscond.