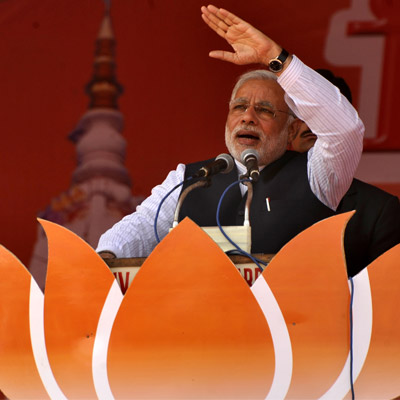 Bharatiya Janata Party's (BJP) prime ministerial candidate Narendra Modi on Friday said Congress president Sonia Gandhi remembering the almighty as she faces almost certain defeat in the general election, must be a first for her.
"In the last 20-25 years, I haven't ever heard of Sonia Gandhi remembering the almighty in any rally. It is for the first time that she has sought divine intervention. She is constantly remembering God; you can well imagine how big a problem she is confronting," Modi said at his rally in Khalilabad, while referring to Gandhi's recent statement of seeking divine help to keep Modi and his Gujarat model of development at bay.
Modi said that while the Congress Party's mantra is to divide India, he believed in a skilled and a digital India.
Modi asked the Congress what it had done for employment creation in the last 60 years, and charged the party with misleading the people through its 2009 poll manifesto.
"The Congress Government is enmeshed in looting the country and is involved in multiple scams. They did not leave either land, water or air from their voracious appetite of looting . Will you still allow this rampant loot? They have committed scams one after another and transformed this country into a scam-India. If we will not give employment to the youth, then what will happen to this country? Today, the youth wants jobs. Has any youth asked for a Mercedes car or an aeroplane, or to be sent to America? He only seeks that much so that he can feed his parents. In sixty years, they (Congress) haven't done anything. Not only this, they have even cheated you, in their 2009 manifesto They had promised to give employment 10 crore people. I want to ask -- has the government in Delhi given a job to a single person. They have misguided you? Whereas in contrast to the present government,the Atal Behari Vajpayee Government generated 6.5 crore jobs. The mother-son-led government has not even given jobs to one and a half crore of people. Will you still trust this government?," Modi asked.
"Congress gave scam-India, while I will give you skill-India. Congress believes in dividing India, while I believe in digital India where it can even take on against the United States," Modi also said.
He attacked the Congress party for its pseudo-secularism and not giving thrust on development and job creation.
"In my nation-wide tour, when I sought answers from the Congress Government, why did it not stop the price rise? They talk about secularism; and when I pose question about employment for the youth; they say what about secularism! When I ask what about giving a fair-price to the sugarcane farmer; they say what about secularism; I ask what about those women from the poor-middle class and upper class rich people not getting proper sanitation, they say what about secularism. Secularism is the means for them to capture seat of power," Modi remarked.
Modi asked: "Now, you tell me will you forego your good for their secularism; or do you seek your own betterment? They are fighting for their protecting their chair; while I am fighting for your better future."
Modi was categorical that Samajwadi Party chief and Mulayam Singh and his son-Akhilesh Yadav- the chief minister of Uttar Pradesh (U.P) cannot help save Congress from defeat in these elections. "Father-son duo government won't be in a position to help the mother-son duo government," Modi said.
Modi clubbed Bahujan Samaj Party (BSP), Samajwadi Party (SP) and the Congress all together whom he said were hands-in -glove with each other. "Has the BSP and SP government helped you? SP-BSP and the Congress are fooling the people of Uttar Pradesh. They all eat in the same plate and eat it all," Modi asked.
Modi promised to ensure that no farmers die and that he will provide a strong Government. "We will ensure that not a single farmer dies and truly make 'Jai Jaiwan Jai Kisan' becomes a reality. My aim is always to ensure your development.Therefore, you must give me a strong mandate, and, I will ensure a strong government," Modi added.
He said that Sonia and Rahul Gandhi's rule is almost finished and that a new government will be in power. "Till now, the election rounds that have been completed they have given their verdict where they have voted out the mother-son (Sonia Gandhi-Rahul Gandhi) duo government at the centre. They have also laid the foundation of a new government. Now you have to ensure that a strong government is in place at the centre. The country needs a strong government," he added.