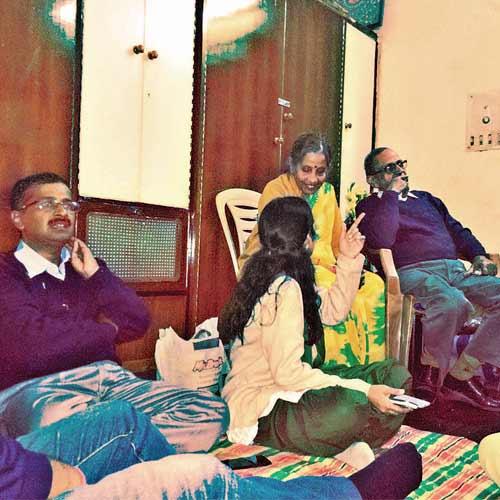 Congress bigwig and now former Delhi chief minister Sheila Dikshit had called the Aam Aadmi Party (AAP) 'monsoon pests' and her words may haunt her and India's grand old party – Congress for years to come as the one-year-old AAP nearly brought the ruling 128-year-old party on its knees.
All thanks to AAP's aggressive campaign, Congress from being Delhi rulers for three consecutive terms and having over 40 MLAs in the 70-member assembly till Saturday came down to - single digit - less than 10 seats. And probably that is why the real story of Delhi election is not BJP emerging as the single largest party, but AAP's spectucular debut which has become a loud wake up call for the political class, feel experts.
But if anyone thinks it was easy for AAP which was written off on the day it was launched in 2012, it is wrong. The journey wasn't easy.
Last year when the party was formed, Union I&B minister Manish Tewari had welcomed the party saying there are over 1,400 political parties in India and they welcome one more. He had said that common man is synonymous with Congress since 1885 and no one (note AAP) can hijack that.
"The historic verdict is a result of our non-stop work. It is a reply to arrogance of the political class who even a day before the voting had brushed AAP aside. It is the win of our ideas – honest, transparent and clean politics," AAP leader Manish Sisodia told dna.
On the eve of elections, Sheila Dikshit had brushed aside AAP's challenge calling them non-entity. Even BJP, which is now welcoming them, had refused to acknowledge them as a challenge. Probably this arrogance from fuelled people's anger who were already frustrated with inflation and corruption.
What added to AAP's magical rise were some unprecedented steps — like transparent funding wherein they put out detail of every single paisa taken from public, transparent selection and withdrawal of some of them when faults were found in them, promise of corruption free life and bringing of Janlokpal, giving people Swaraj where they will take their own decision among others.
AAP also won people's heart after coming out clean from the sting that had alleged misconduct on some of its candidates. It also was acclaimed — in Arvind Kejriwal's own words — being the first party to stop taking donation after reaching their target of Rs20 crore required for fighting elections.
"Arvind Kejriwal is a symbol of the fight. The real issue is a transparent, corruption-free effective system that AAP is promising. People of India are now ready to teach corrupt and arrogant politicians a lesson," Sisodia added.
However, the result is of not the hard work achieved in the last one year alone. The story goes back to the time when Arvind Kejriwal, Prashant Bhushan, Manish Sisodia and few others got together and drafted Janlokpal bill. They fought hard under Anna Hazare's leadership whose fast at Ramlila Maidan saw people coming out on streets and expressing anger against government which was then battling scams of never before heard amounts – 2G scam of Rs 1.76 lakh crore, CWG and others. Later, Anna refused to be part of electoral politics.
"But we took the plunge. People wanted an honest alternative to clean the muck and thus AAP was necessary. All kinds of attacks were launched on Arvind his family, Manish Sisodia, Prashant and Shanti Bhushan and others but as no one had any skeletons to hide," said Bibhav Kumar who has been working with Arvind from nearly 10 years.
What probably also helped the party is that there was hardly any infighting unlike BJP and Congress.