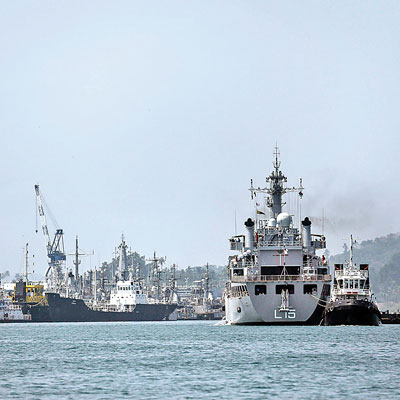 With the search for missing Malaysian plane turning to India's neighbourhood, China has sought permission for sending its four warships into the Indian waters, causing a major dilemma for the authorities here.
India, which had suspended the search operations for last three days, resumed efforts today to locate the aircraft in South Indian Ocean region.
China, whose 150 nationals are on board the aircraft, has sent a formal request to India to allow their warships including a salvage vessel and two frigates to enter Indian waters in the Andaman Sea to locate the plane, sources said.
The government, which has been taken by surprise, will take a decision the request after consulting the defence forces, particularly the Navy, the sources said.
The dilemma for the government is because its assets in the Arabian Sea are mainly to guard against China and these could get exposed if the Chinese warships are allowed in.
Meanwhile, three days after India suspended its search and rescue operation, its navy and air force along and Coast Guard ships joined the search for the aircraft. India has received a fresh request from Kuala Lumpur to search for the ill-fated plane in southern Indian Ocean.
According to sources, Malaysian investigators have indicated that the aircraft probably may have flown into the southern Indian Ocean. With the input, the search operation went to the southern end and might stretch from west of Indonesia to the Indian Oceans west of Australia.
"On the basis fresh inputs, the Malaysian authorities have requested Indian navy to search for missing MH 370 in southern Indian Ocean spanning 5000 nautical miles south and southwest of Jakarta,"said an Indian Navy official.