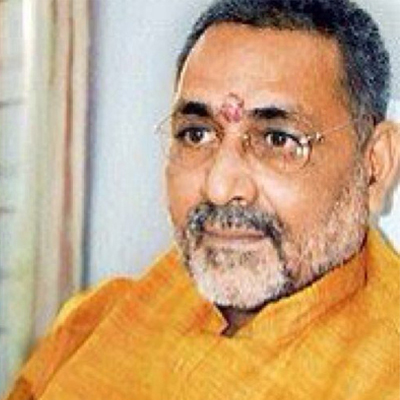 Bharatiya Janata Party (BJP) leader Giriraj Singh has stoked yet another controversy by saying why all terrorists belong to a particular community."Is it not true that people in terror activities are from one religion? Not saying all people from that religion are terrorists," said Singh.
"My intention is not to say that everyone from a community is a terrorist. But when all those arrested are from one community, why are secular parties silent," he asked.Singh already has a police case against him for his earlier hate speech during the election campaign. He had surrendered in a district court and was later granted bail in a case of alleged hate speech lodged in Patna earlier this month.
"This is a naked example of pseudo secularism and patronisation of a community for vote bank politics. This mindset is posing danger to the country," said the Nawada Lok Sabha candidate of the saffron party.
A case was lodged against Singh with Patna Airport police station by the district administration for his alleged hate speeches during election campaign.Singh, a former minister in the Nitish Kumar government, had stoked controversy during an election meeting in Jharkhand's Deoghar district on April 19, saying that those who opposed Narendra Modi should go to Pakistan.
Three FIRs were lodged against him at Deogarh, Bokaro and Patna for his hate speeches.The Jharkhand high court had earlier granted him bail in the case registered with Bokaro police station.
(with agency inputs)