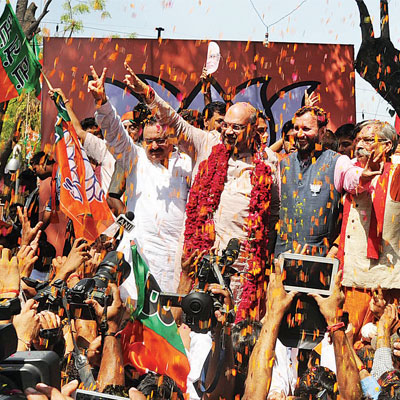 Ten years of uneasy calm at Ashoka Road headquarters of BJP ended on Friday as fire cracker bursts kept the whole Lutyen's zone abuzz with celebrations. The BJP leaders dressed up in their best wardrobe collection and scores of party volunteers poured in at BJP office, to commemorate historical win of the party in the 16th general elections.
And the festive mood was replicated almost in every BJP office across the country, especially in Vadodra, where BJP's prime ministerial candidate Narendra Modi gave his first winning speech, attracting a mammoth gathering. "Ache Din Aane Wale Hain" slogans grew louder and louder, as Modi congratulated 125 crore Indians.
In Delhi, the much expected victory had galvanized the celebratory crowds early Friday morning at party headquarters, even when the counting was just in its first phase. "Counting is just a formality. We will win," said Rampal, 30, one of the party workers, wearing mask of Modi's photograph.
A dedicated batch of senior BJP leaders including the spokespersons, were roaming around the whole premises, smiling and greeting almost everybody, who entered the office complex. Ravi Shanker Prasad, Nirmala Sitaraman, Balbir Punj, Prakash Javdekar, Dharmendra Pradhan, Venkaiya Naidu, besides attending to journalists, made it sure that they greet every group of supporters and offer sweets to all.
BJP reportedly had bought fire crackers worth more than Rs 15 lakh and almost 50 percent of the stock was exhausted till Friday afternoon. And flower petals were showered on the crowd by machines.
BJP president Rajnath Singh and Uttar Pradesh chief campaigner Amit Shah also met people in the office premises. Late afternoon, Shah's room was chocked with flower bouquets. "This is the vote for change.
But celebrations should not harm anybody," said Rajnath to party supporters.
Inside the office premises, along with scores of journalists a massive digital screen was flashing election updates, with Modi-praise songs glaring from the massive loud speakers, installed for big fat election celebrations. Sweet boxes, packed food and mineral water was generously distributed inside the premises.
Some of the theatrical groups, dance tropes and wedding bands were also performing outside the party premises transforming Ashoka road into a carnival stretch. The entry to the carnival stretch was guarded— other than the security personnel — by two giant elephants with lotus sketched all over the body. Youngsters were also throwing colors at each other, shouting pro-Modi slogans, inviting every passerby to join in.
"This is real independence, when we the whole country decided to shun family rule. Now people who deserve power will get it," said Rahul, a Delhi University student who had voted for BJP for which he claims had to face lot of criticism from his friends.
The security personnel were also allowing almost everybody inside the premises, inpsite of the presence of senior party leaders inside the campus. "It is a festival, let everybody enjoy," said one of the security persona