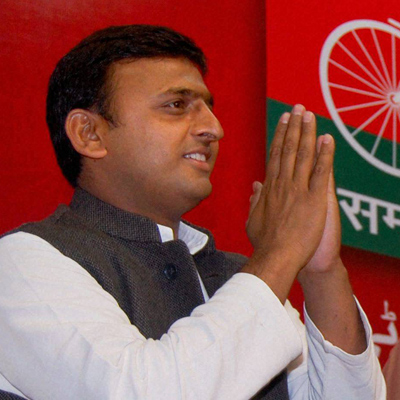 Uttar Pradesh Chief Minister Akhilesh Yadav on Wednesday alleged the BJP which had once formed the government at the Centre in the name of Lord Rama was once again misleading people to gain power.
Addressing a poll rally at Vishwanathganj, he alleged the BJP, which had played a trick by spreading rumours of idols drinking milk, had gained power once in the name of Lord Rama. He said the saffron brigade was once again trying to "grab power by misleading the people".
Yadav alleged BJP prime ministerial candidate Narendra Modi was raising false slogans of development and his party was indulging only in propaganda. On the contrary, the chief minister said his government had given unemployment allowance, free laptops to students and financial assistance for marriages.
The Samajwadi Party-led government had also provided education to poor girls, he said. Yadav said the state government had also started 108 ambulance service benefitting the people. He said no such scheme was running in Gujarat.
On the Gujarat model of development, the chief minister said no one was in a position to explain what it was.