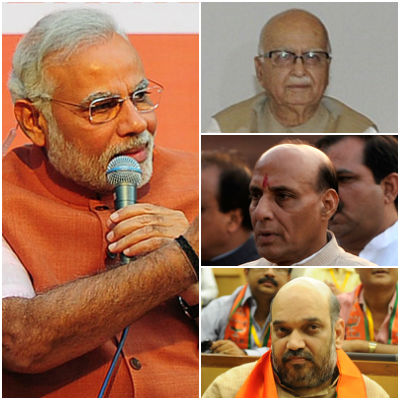 After a resounding victory in the 2014 Lok Sabha elections, senior leaders and party workers of the Bharatiya Janata Party (BJP) met on Sunday to begin the process of government formation. Prime Minister-designate Narendra Modi met senior BJP leaders Amit Shah and Dharmendra Pradhan in Delhi to discuss the post-election scenario in states of Uttar Pradesh and Bihar.
Leaders from all over have been visiting senior BJP leaders to discuss various issues and to congratulate them on their victory. National Peoples Party (NPP) president PA Sangma visited BJP president Rajnath Singh's residence, and BJP general secretary Ananth Kumar met party veteran LK Advani at his home. Modi also went to Advani's residence to meet with him. Vasundhara Raje also met Modi at Gujarat Bhavan in Delhi.
The Election Commission (EC) will call on President Pranab Mukherjee on Sunday and submit the list of new Lok Sabha members.
The BJP is in the process of deciding the roles of senior leaders in Modi's new cabinet, and other positions in the party. Reports claim that Advani is keen to become the Lok Sabha Speaker. Regarding Rajnath Singh's position, he is likely to become the new Defence Minister. The party is still debating his next role, but the question remains, who will be the party's next president?