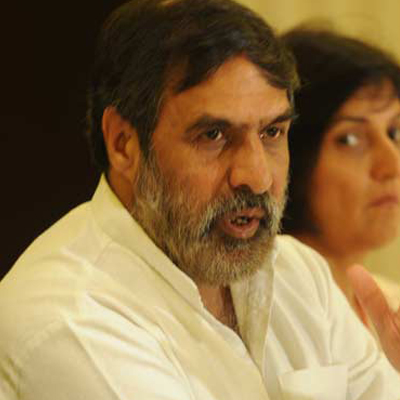 Rejecting BJP's "charge sheet" as an "orchestrated campaign" created by a "very perverse mind", Congress today accused the main opposition of falsifying facts about UPA's track record.
"We reject this charge sheet which belongs more to a dustbin," Commerce and Industry Minister Anand Sharma said.
"It's a repeat and rehash of orchestrated campaign which BJP is carrying, falsification of facts, numbers, exaggeration and sensational references. The truth belies that. UPA track record is far better than what BJP is trying to portray," he told reporters here.
Sharma, who is also a Congress spokesperson, said that BJP has been unfairly targeting the UPA government for the last few years by indulging in excessive vilification to undermine the system in furtherance of partisan political agenda.
Comparing the track record of UPA and NDA, he said, "We have done far better when it comes to economy, when it comes to infrastructure building, attracting FDI, trade, foreign exchange reserve.
"BJP was dealing with mickey mouse economy in 2004-05.
When NDA left office in 2004, the total foreign trade was $142 billion and now it has crossed $890 billion. GDP of India was $522 billion. It had only grown by $116 billion in the 6 years of NDA," he said.
"Today GDP of India is $2 trillion. When NDA came, there were tailwinds and global economy was expanding and ballooning," he said, adding UPA has faced 6 years of strong headwinds "but we have delivered 50% more growth." BJP earlier today came out with a scathing "charge sheet" on UPA's 10-year rule that accused Sonia Gandhi and Rahul Gandhi of being equally guilty of all ills by exercising authority without responsibility.
The party picked holes in the government's economic policies that brought "destruction", its policy on defence and national security, foreign policy and "neglect" of North-East, besides "undermining" of institutions including "compromising the dignity and integrity" of the office of the Prime Minister.
Sharma rejected the BJP charges, saying, "When they are giving a report card I do not expect them to write fairly but here is a party which is yet to come up with a vision for the future."