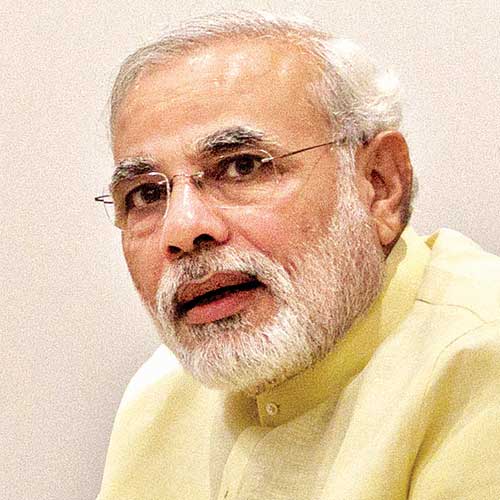 The late music maestro Ustad Bismillah Khan's family has refused to become a proposer for BJP's Prime Ministerial candidate Narendra Modi when he files nomination for the Varanasi Lok Sabha seat on Thursday.
Watch:
"We got a phone call from a local BJP leader, who wanted to meet us," Nazim said. "We thought he wanted to arrange some cultural programme, but we were told Modi wants Zamin, the eldest son of the shehnai maestro, to be his proposer. We politely refused them." But noted classical singer Channulal Mishra has given his consent to be a Modi proposer. "I am impressed with Modi and wish him all success," he said.
The BJP is yet to announce the names of Modi's proposers. "There are several names we are considering as Modi's proposers, but so far no final decision has been taken," said Ashok Dhawan, the local in-charge of Modi's campaign. "The list of proposers will be finalized on Tuesday."
After speculation about chaiwallahs and paanwallahs being made Modi's proposers, the BJP has decided to bring proposers from the fields of culture, education and craft. Since Modi will file his nomination in four sets, four proposers will be needed.
Varanasi will go to the polls on May 12, with Modi, Congress candidate Ajay Rai and AAP leader Arvind Kejriwal in the fray.
The BJP's prime ministerial candidate Narendra Modi suffered a setback in Varanasi, from where he is contesting, as the family of world-famous 'shehnai' player late Ustad Bismillah Khan refused to be the proposer for his candidature from the holy city. But there is no reason yet for the gladiator from Gujarat to lose heart as a 'paan wala', a boatman, a weaver and a couple of Brahmins would be among his proposers when he files his nomination on Thursday.
"Khan sahib is known for his music. He never dabbled in politics. We also do not want his name or legacy to be dragged into politics," said Bismillah Khan's son Zamin. He said BJP leaders from the Modi camp had contacted him and his two sons to become proposers for the Gujarat chief minister. "But we have given them in writing that we don't want to have anything to do with politics," he asserted.
Modi would be filing his nomination from Varanasi on Thursday. One elector of the constituency is required to propose the nomination of the candidate of a recognised party. As several sets of nomination papers are filed, several local electors are required.
Party insiders say Modi wanted to boost his image and acceptability with support from the family of Ustad Bismillah Khan, which is a hugely respected name in Varanasi, even if it didn't get him Muslim votes.
The sources say Modi strategists are taking no chances and are trying their best to garner votes of all castes in Varanasi. So, there would be a weaver (Muslim), a 'mallah' (boatman community), and a 'paan wala' (from the Chaurasia caste) as proposers for Modi. All these groups have a considerable presence in Varanasi.
Sources in Varanasi say there is worry in the Modi camp over whether Brahmins would support the BJP whole-heartedly. The Brahmins are reportedly unhappy with the way incumbent MP Murli Manohar Joshi was edged out of Varanasi and shunted to Kanpur.
Interestingly, on Monday, Modi strategists roped in two prominent Brahmin citizens of Varanasi as proposers in an apparent bid to appeal to the crucial upper caste electorate. Justice (retd) Girdhar Mishra, grandson of four-time Congress president and founder of the world-renowned Banaras Hindu University Pt Madan Mohan Malviya, and Pt Chhannu Lal Mishra, famous classical singer and doyen of the Banaras 'gharana' (school of music), have agreed to propose Modi's candidature.
"I am not a political person. But I have decided to support Modi for his political agenda aimed at good governance and ending corruption," the retired judge told reporters. "I agreed to propose Modi's name as his supporters approached me. He (Modi) has given me respect and now it is my duty to return the same," said Chhannu Lal Mishra.