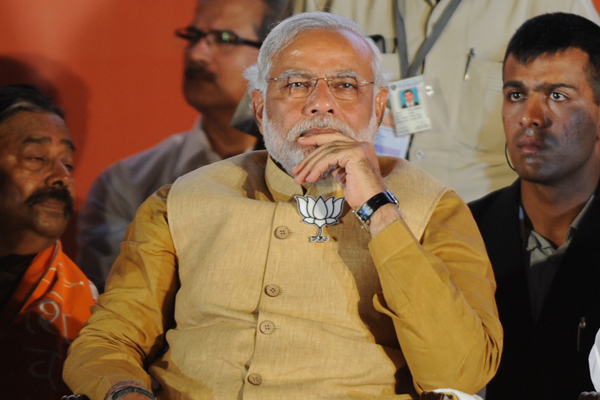 In the dark and dingy hovel of Islampur, in the heart of Muzaffarpur city, the economic capital of Bihar, Mohammad Naushad working on a furnace remembers crafting lathi bangles, inlaid with glass and pearls for the marble wrists of Aishwarya Rai for her wedding to Abhishek Bachan in 2007. In the nearby locality Mohammad Asif at Liberty Tailors recalls happier days, when people from Mumbai to Bhopal even far off would travel to stich clothes from his shop. The town, till recently known for world class bangles, leather works, cotton cloths and skilled tailors has lost its economic sheen, with artisans now fighting a battle for their survival.
But that has not deterred Naushad and Asif to vow to prevent BJP's prime ministerial candidate Narendra Modi's march to Delhi. But why? They have no answers, except they have been told he (Modi) will make their life more miserable, by promoting corporate and machine made bangles and clothes. Even while showering encomiums on Chief Minister Nitish Kumar for his support and development, Muslims who constitute 15.30% of this Lok Sabha seat like the two artisans are largely vouching for the Congress-RJD combine candidate former union minister Akhlesh Singh, finding him a formidable challenger to the BJP's Ajay Nishad. The constituency goes to polls on May 7.
Author and principal of a local college Prof. Abuzar Kamaludin agrees that Modi effect was being overplayed to consolidate Muslims in favour of Congress candidate Singh, who is on a strong wicket not because of his party, but for his own persona, coming from the rich and dominant upper caste Bhoomihar community. With Janata Dal (U) candidate Vijindra Chowdhry also in the race, making it a triangular contest, the Muzaffarpur region resets its record of being the world's ancient Republic, where kings used to be chosen, rather anointed as early as 6 century BC. Historian Prof. Goji Nandan believes in world history there are no parallels of such a system, which was also stable and strong. In the heart of Vaishali region, in the outskirts of the city is the birthplace of Lord Mahaveera, the founder of Jainism.
In Khadi Bhandar Chowk a rickshaw puller Ramakant Yadav is amused not to find lantern (RJD symbol) in the election campaign. "I vote for lantern, but don't find it in the campaign," he says, little knowing that RJD supremo Laloo Prasad Yadav has conceded this seat to Congress. In Aghoriya Bazar, a milkman, not revealing his name, says he would stamp on lotus, as there was no lantern in the elections. Local RJD leader Sachinand Suma, says, he alongwith block Congress leaders were going door to door to clear this confusion. With no machinery of its own, Congress is totally dependent on the RJD cadres to carry message that they are in alliance.
But there are many others, who feel this election is not between Nitish Kumar and Laloo Prasad Yadav. Outside historic LS College, where first President Dr. Rajinder Prasad taught history, a student Ranjit Kumar makes his choice clear. "It is a national election and contest is between the Congress and the BJP. The former has ruled us over 10 years, we should now give a chance to the BJP," he says. Other students gathered around chant Namo in a chorus, complaining of degradation of educational standards. Prof Krishan Mohan, heading the department of economics in Muzaffarpur University points out that historic LS College, eulogised by none other Mahatma Gandhi himself, was short of 50% teachers. In the nearby RB Women College, economics, physics and Maths wings have no teachers. "Some 44 colleges under my University have 75% vacancies of teachers. In one college there are just five teachers supervising 2,000 students," he says, lamenting such issues are whisked under the carpet during elections. "Public should choose candidates and vote on the basis of these issues rather caste and communal lines," says the professor.
In 2009 elections, Capt Jainarain Prasad Nishad, then in JD (U) had won this seat by riding the sentiment prevailing at that time in favour of Nitish Kumar. This time, his son, Ajay Nishad, having no record of development work, is hoping to get elected on a Modi wave. He got a BJP ticket on the personal intervention of Modi, to the vehement opposition of local BJP leaders, who wanted an upper caste Bhumihar candidate.