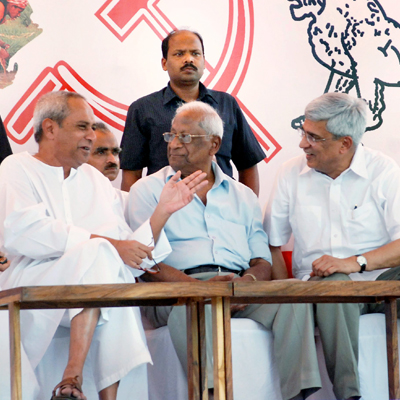 Over 30,000 Bengali settlers at Mahakalpada Assembly constituency in Odisha could well become the determining factor for the ruling BJD in winning the seat this time.
The election scenario in the constituency, which was held by BJD has changed for the first time in 14 years due to the entry of BJP candidate Bijoy Mohapatra, a four-time MLA from neighbouring Patkura and a prominent non-Congress leader of the state.
Mohapatra, who is an erstwhile close aide of former Chief Minister Biju Patnaik, has apparently secured voters' support in the constituency's Marshaghai block, where BJD earlier used to get the maximum vote. He has sizeable support from voters in about 18 of the total 41 panchayats in the assembly segment and is mostly banking on non-Bengali votes.
Chief Minister Naveen Patnaik, who is the younger son of Biju Patnaik, is not taking the fight at Mahakalpada lightly and has already campaigned twice for his party candidate Atanu S Nayak, the sitting Mahakalpada MLA. He is likely to hold yet another rally in the area before the second phase of election scheduled on April 17. The party is using Arabinda Dhali, the lone Bengali MLA in the assembly, to motivate the Bengali supporters in favour of BJD. For the Bengali settlers it is the record of rights of their land over which they have been staying for decades since creation of Bangladesh which will be the clincher.
"Though we have possession over land, most of the Bengalis have no record of rights. Therefore, we could not get domicile certificates," said Babuli Biswas of Kharnasi village, which is on the sea. Most of the settlers are fishermen and have acquired large tracts of land. 'Amader jamir adhikar din, sankha chine botam chipbo (Give us land rights, we will press the button on the conch symbol)' was the common refrain in Ramnagar area when Patnaik landed there to campaign for Nayak on Sunday.