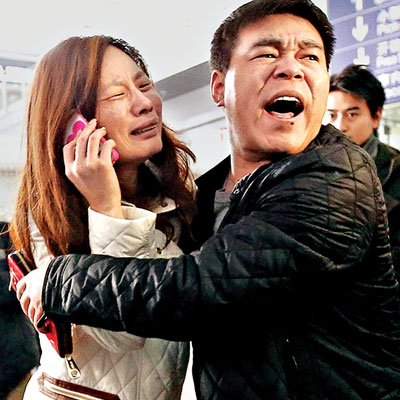 A Beijing-bound Malaysia Airlines flight, with 239 people, including five Indians, on board was presumed to have crashed on Saturday. Worst is feared as two large oil slicks have been spotted off Vietnam's sea coast where the plane went missing.
There were 14 nationalities among the 227 passengers and 12 crew members. This is the worst air accident in 19 years.
The Indian high commission in Malaysia confirmed that, of the five Indians, four were from Maharashtra and one from Chennai.
The official, who did not want to divulge his identity, said, "We have the names of five passengers. They are Chandrika Sharma (51) from Chennai, Vinod Suresh Kolekar (59), Chetna Vinod Kolekar (55), Swanand Vinod Kolekar (23), all from Mumbai, and Kranti Pralhad Shirsath (44) from Pune."
Chennai-based Sharma had taken the flight from Kuala Lumpur on her way to Mongolia to participate in a Food and Agriculture Organisation (FAO) conference. She was to represent her organisation, International Collective In Support of Fishworkers, where she works as executive secretary.
One Indian-origin Canadian Muktesh Mukherjee, 42, was also on board. Malaysia Airlines said the last point of contact with the plane was approximately 120 nautical miles east of Kota Baru in South China Sea.
Of the four Maharashtrians, three were from Mumbai and one from Pune. Speaking to dna over phone, India's deputy high commissioner in Malaysia confirmed the five passengers' names.
When asked about Kolekar family, he said: "We have sought details from Malaysian airline authorities but they are not sharing any information. They have told us that the family members of the passengers contacted them and they are being kept in the loop."