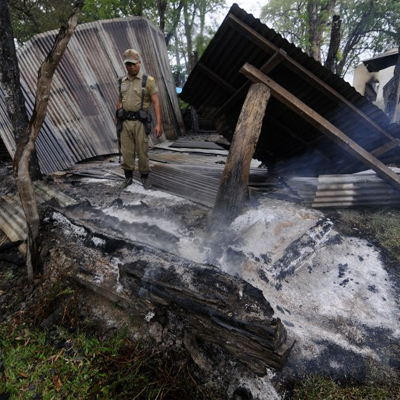 With 32 people being killed in Assam, Prime Minister Manmohan Singh took stock of situation on Sunday morning, directing Cabinet Secretary Ajit Kumar to continuously monitor the situation. Singh, who is also Rajya Sabha MP from Assam had summoned top security officials, including the National Security Advisor (NSA) Shiv Shankar Menon to find ways to prevent escalation of violence, and in view that tensions were building up in Kokrajhar and Baksa districts since April 24, when the state went to polls. The meeting was told that 43 companies of central armed police forces and 10 more companies are being sent.
Further 15 columns of the army comprising of approximately 1500 soldiers have also been deployed in the region.
The government sources here said that tensions had escalated between former ULFA commanders Heera Saraniya contesting against a Bodo candidate Chandan Brahma from Kokrajhar Lok Sabha seat. The former militant leader had backing of the Sanmilita Janagostiya Aikkyamancha (SJA), an amalgamation of at least 20 ethnic and linguistic groups.
The situation was further vitiated when on April 30, Pramila Rani Brahma, Minister for Agriculture in Assam pointed out that Muslims in the region have voted for Saraniya and not for the Bodo candidate.
Addressing a press conference here, president of Assam Sangkhyalaghu (minorities) Sangram Parishad Naziruddin Ahmed alleged that taking que form the minister's statement, on May 1, some 8 armed Bodo youth riding on 4 bicycles entered a house in Narasinghbari village in Baksa Dist and enquired whom they had voted for. But before getting any answer they fired shots and killed 3 persons and injured two.
At 12.30 a.m. on 2nd May (night of 1st May) in Balapara village part I, 20 armed militants entered and fired indiscriminately on 5 houses and killed 8 people which include 3 women, two old persons and 3 children (aged: 3, 8 and 12 years), who had obviously not even voted.
Assam Minister of state for Border Areas Development Siddique Ahmed has claimed that extremist elements in Bodoland People's Front (BPF), an alliance partner of Tarun Gogoi-led Congress government, are involved in the recent violence in Bodoland Territorial Autonomous Districts (BTAD). About 40 surrendered youth of Bodo Liberation Tigers (now BPF) have been given arms (303 rifles) to defend themselves against NDFB militants and camped in Basbari Range Forest office.
Naziruding alleged that Bodo constitute only 26 per cent in the BTAD areas. They are demanding even larger territory. The militant elements have been attacking the Rajkochbanshis, Oraons and other adivasis and non-Bodos in the past forcing their migration, in order to claim territory and turn their numbers into majority.
President of All India Muslim Majlis Mushawarat, an umbrella body of all Muslim social, cultural and religious groups Dr. Zafarul Islam Khan said Muslims are being made scapegoat for opposing the Bodo People's party which is part of the Gogoi government of the state. "It is a political conspiracy to weaken the Muslim community by way of dubbing them illegal Bangladeshi migrants to prevent their emergence as a political force in the state", he said.