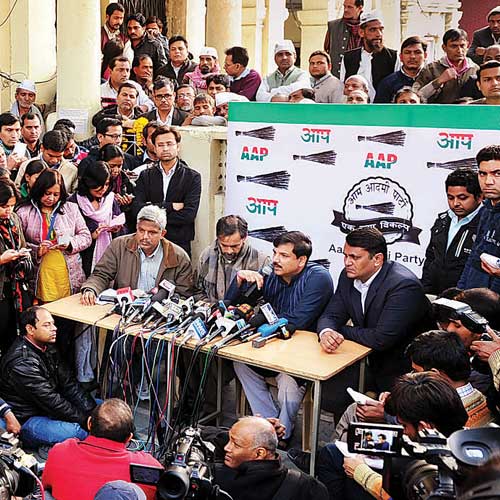 The national capital is in for a surprise when the giant-killer Aam Aadmi Party assumes charge of government. While liquor is set to get more expensive, revenue and VAT offices will see raids, say government officers who have interacted with chief minister-designate Arvind Kejriwal during the past two days.
The AAP has announced that it will bring down the power tariffs in Delhi by 50 per cent. The power department is a loss-making body, its only earning being the dividends from the power distributing companies (discoms), which is about Rs 20 crore a year. However, the discoms which are supposed to share their profits with the government, do not do so. Every year, these companies have been showing loss, as a result of which the government does not get any revenue from the discoms. Instead, the subsidy that the government provides to the consumers consuming less than 200 units of power also goes from the exchequer.
With the AAP announcing cut in power tariffs by 50 per cent, the burden on the government is going to increase. To make for the power department's loss, Kejriwal has decided to increase excise duty on liquor, VAT and luxury tax.
The Delhi government currently earns about Rs 325 crore revenue from luxury tax, Rs 3,000 crore from excise and about Rs 67 crore from entertainment tax. However to cut power tariffs, the government will now have to increase these taxes.
Sources said that the Congress which is in minority in the new assembly will have little say in the matter. The BJP can, however, resist the move. "These taxes are on the rich and will benefit the poor as well and the BJP will not want to dirty its hand in the issues benefiting the poor," said a senior officer of the Delhi government.
Sources also said that Kejriwal is also expected to conduct raids on revenue and VAT offices of Delhi government. "These offices have lots of money involved and government officers here have been acting as middlemen in deals and making money. Their is no check on whether these taxes are being paid," said the officer.
Kejriwal has also asked honest officials and employees of Delhi government to contact him through SMS or email so that they can be deployed at places where they can work to solve Delhi's problems. "I would request them to contact me through SMS or email, we will depute good people at good places and want to move ahead with them. I don't have a magic wand to solve all the problems, but if good, honest and efficient people join us nothing is impossible," he said.