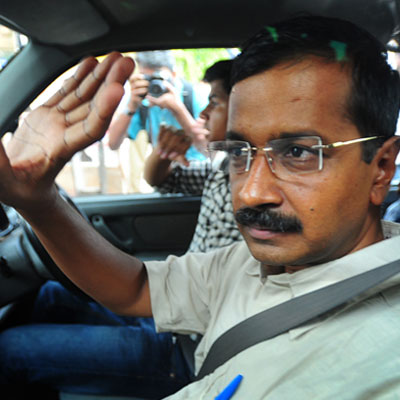 Delhi court extends Arvind Kejriwal's custody till June 6 after he again refuses to furnish bail bond in a defamation complaint filed by Nitin Gadkari. Court asks Kejriwal to challenge its order sending him in jail before a higher court after the ex-CM questions its decision.
Commenting on the order, party leader and prominent lawyer Prashant Bhushan said, "We will go to High Court to challenge this order as soon as possible."
Aam Aadmi Party leader Arvind Kejriwal, on Wednesday, was sent to judicial custody on refusing to furnish a bail bond in a defamation case that BJP leader Nitin Gadkari had filed against him.
Kejriwal was taken to Tihar jail Wednesday evening, where his colleagues and supporters had gathered, terming the situation ironical that those who attack corruption are sent to jail while those who are alleged to be corrupt are free outside. According to reports, chaotic scenes were witnessed outside the Tihar jail on Wednesday evening when clashes broke out between AAP supporters and Delhi Police. Around 70-80 workers including MLAs and other senior leaders were arrested from outside Tihar jail. Police had to imposed section 144 outside the jail premises. Senior leaders like Yogendra Yadav, Manish Sisodia were dragged by the police personnel.
AAP today decided to launch a door-to-door contact programme to apprise people about the circumstances leading Kejriwal's arrest. "We had a meeting with Arvind Kejriwal during which it was decided that the party won't protest anymore and would launch a door-to-door campaign and tell people how a honest man like Kejriwal is behind the bars," senior AAP leader Ashutosh stated.
AAP later released documents allegedly incriminating Nitin Gadkari following Arvind Kejriwal's arrest.
ALSO READ: Politics or gimmickry: what are Arvind Kejriwal's priorities?
Earlier in the day, Kejriwal had ended days of speculation over Delhi government formation, by stating that AAP would go for fresh polls as the party saw no chances of forming a government in the city. He apologised to the people who wanted the AAP government in Delhi to continue. "In the next 7-10 days, we will hold a number of meetings in Delhi... We will apologise to the people of Delhi and (seek) complete mandate so that we can form a government for five years," said Kejriwal.
He admitted that the people's anger against his party for resigning from Delhi was justified and thus they would seek people's forgiveness to win them back. The announcement follows AAP's failure to win any Lok Sabha seat in Delhi where it has 28 MLAs in the 70-member assembly. The decision came after Kejriwal met senior party members and MLAs to discuss their future course of action on forming government in Delhi.