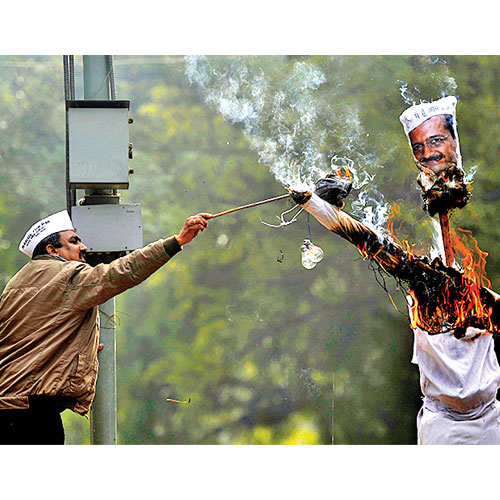 All thanks to his "utterances", Delhi's law minister Somnath Bharti has fallen from grace. A close confidant of Arvind Kejriwal until only a few days ago, Bharti finds himself nearly isolated in the the Aam Aadmi Party (AAP) with several of party members gunning for him and demanding his resignation.
If what was happening inside AAP was not enough, four more Ugandan women have identified Bharti in their statements recorded before a magistrate in Delhi regarding January 15 midnight raid in Khirki Extension in South Delhi.
Delhi Police had registered a case of molestation, trespass and racial abuse against unknown persons on court orders. It is likely to expedite the investigations and Bharti may face arrest soon.
"Nine African nationals have recorded their statements so far and of them four women have identified Bharti on video footage and photographs," a senior Delhi Police official supervising the probe told dna.
Rakesh Sherawat, who represents the two Ugandan victims who have identified Bharti, said a "separate FIR should be registered against Bharti for molesting woman."
The AAP is under tremendous pressure from both BJP and Congress as well as from civilian groups who have raised voices against Bharti. Knowing fully well that the language used by Bharti at lot of places inspite of repeated warnings has damaged AAP's aura, some of AAP's senior leaders want an example to be set to diffuse the critics. Probably for the same reason, AAP's political affairs committee had on Thursday summoned him.
Brushing aside criticism and mounting demands for his removal, the AAP on Thursday night backed Bharti in the midnight raid episode and decided to await the findings of the judicial inquiry before any action can be taken against him. However, the Political Affairs Committee of the party chaired by chief minister Arvind Kejriwal disapproved of the language used by Bharti against BJP leader Arun Jaitley and noted lawyer Harish Salve and asked him not to use foul language in public discourse.
But for Bharti, who has been associated with Kejriwal even before Aam Aadmi Party's formation, this is a fall from the pedestal in no time at all. Since the Lokpal agitation, Bharti had been closely working with Kerjiwal and his team. Being an IITian, there was natural affinity between Bharti and Kejriwal. Bharti, a lawyer by profession, had also proved his mettle while helping the activists on legal front before the elections. Thus, he was natural choice for AAP when time came for Kejriwal to choose his ministers in Delhi government.
— With Agency inputs