Forced to step down as the chief minister last year, Yeddyurappa virtually shut all doors of negotiations in a late night meeting with Arun Jaitley.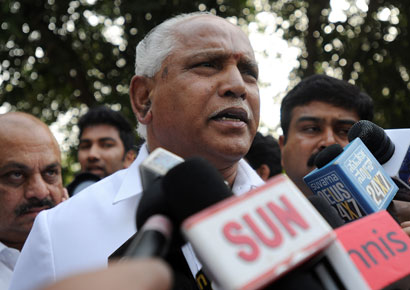 A last-ditch effort by BJP, by despatching Arun Jaitley late on Saturday, to negotiate a to prevent BS Yeddyurappa from quitting the party has failed. The former Karnataka chief minister has stuck to his decision of floating a new party on December 9.
Forced to step down as the chief minister last year, Yeddyurappa virtually shut all doors of negotiations when he declared that he has come a long way from BJP. Stating that there would be no change in his plans to launch his new regional party as planned on December 9, Yeddyurappa said the party would be launched at a rally at Haveri, some 350 km from here.
BJP leader Arun Jaitely, who arrived here last night, keeping his trouble-shooting mission under wraps, met Yeddyurappa at the residence of an RSS leader, where he tried to persuade the Lingayat strongman to reconsider his decision to part with the BJP, sources said.
Though, sources said Yeddyurappa met Jaitley Saturday night and that he ruled out any reconciliation, the former chief minister, however, refused to admit that such a meeting took place.
"There is no change in my plan to launch new party on December 9. Unmindful of whether anyone joins me on that day, I will go ahead with it. There is no question of looking back", Yeddyurappa told reporters at his residence here.
Yeddyurappa, who has been fuming at the BJP leadership at the Centre and in the state for "ill-treatment" meted out to him, said Jaitley was in the city to hold talks with him, but he did not meet him on Saturday night. "I have respect for Jaitley. But there is no question of meeting any one or going back on my decision. I am not leaving BJP out of vengeance. I have certain dreams for Karnataka, which I could not realise when I was in BJP.
"Now I want to realise those dreams of making Karnataka a progressive state," said Yeddyurappa, adding that he banked on the people's support. The 70-year-old Karnataka leader, who had played a key role in installing the first-ever BJP government in the South, said he was not floating a new political outfit to become chief minister or assume any other post.
According to the party sources, Jaitley was expected to return to Delhi on Sunday.