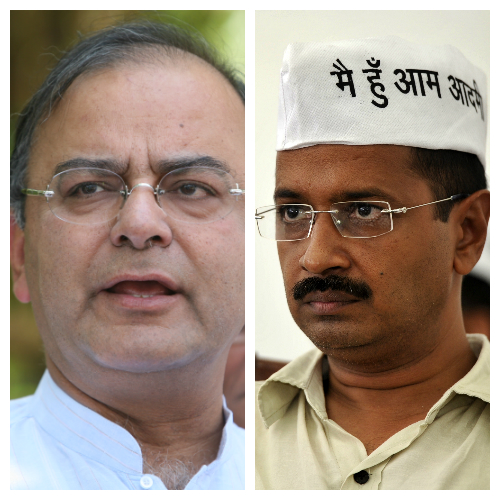 Bharatiya Janata Party (BJP) leader Arun Jaitley on Tuesday criticised Delhi Chief Minister Arvind Kejriwal's remarks on Republic Day, and said that this kind of behaviour, which leads to anarchy, is unacceptable
"It is a matter of great regret that a political party which aspires to acquire a national character is trying to disturb the celebrations of Republic Day. It is not acceptable at all. Delhi is a city which needs governance. And therefore, this kind of a behaviour which leads to anarchy, where there is a complete rejection of established rule of law of society is absolutely not acceptable," he said.
"No government can ever take this position that it is anarchic in character. Anarchy is the rejection of law. Governments are run by the rule of law. The AAP must bear this in mind, otherwise consequences of Indian democracy itself are very adverse," he added.
The Kejriwal-led AAP protest entered its second day on Tuesday, and neither of the two major political parties-the Congress and the Bharatiya Janata Party (BJP) are in favour of its continuance.
Commuters have been the hardest hit in central Delhi due to the AAP protests.
Kejriwal has threatened to disrupt this year's Republic Day parade on grounds that both the BJP and the Congress, besides a section of the media are misleading the people
Meanwhile, four Metro stations - Patel Chowk, Central Secretariat, Udhyog Bhavan, Race Course - have stopped operating until further notice. Massive traffic jams are expected in central Delhi
Earlier, Kejriwal and AAP workers tried to remove the barricades at Rail Bhawan and threatened to go on an indefinite strike if his demands were not met.