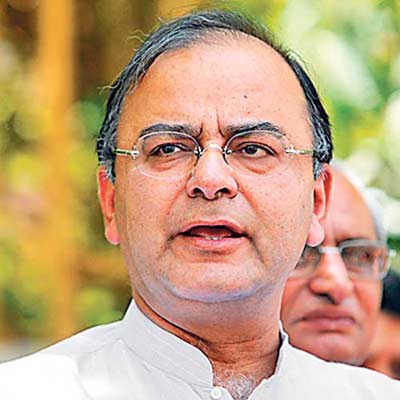 Accusing Rahul Gandhi of breaching the unstated code of Indian politics by making Narendra Modi's marriage a political issue, Arun Jaitley today launched a no holds barred counter-attack, saying how can Gandhi be disturbed by a disclosure of a "legitimate" relationship when "many" of his partymen have "illicit" relationships.
"Indian politics has an unstated code of conduct.
Ordinarily, we don't drag families and ladies into controversy. Rahul Gandhi is guilty of breaching that code.
The BJP leader also apparently took a personal jibe at Gandhi, saying he must remember that the disturbed matrimonial relationship of a former prime minister was never a political issue and and added that Gandhi had shown his "immaturity and desperation" by raking up the issue of Modi's marriage.
"He must remember that the disturbed matrimonial relationship of a former Indian Prime Minister was never a political issue.
"Devoid of serious political issues and understanding of those issues, Rahul Gandhi has reflected his immaturity and desperation by making the 'Modi marriage' as a political issue," Jaitley said in an article.
"How many current senior Congressmen are in illicit relationships and yet have paraded their wives only for photo opportunities during nominations. Surely if people have a right to know about the "legal" relationship of Modi, they also have a right to know about the illicit relationships of Congressmen. The latter is more relevant for people's right to know about the ethics of their candidates," he said.
Coming out in support of Narendra Modi for making a "truthful" disclosure, he asked since when has declaration of a lawful relationship, whether acted upon or not, become a political issue?
Jaitley later said, "There are many people who are in illicit relationship in politics in Rahul Gandhi's party....
Has he asked them to make a disclosure of their relationships.
So if he is not doing all that, how is he disturbed that Modi has made a disclosue of a legitimate relationship. People then also have a right to know about the illicit relationships." (MORE) PTI
Jaitley questioned why Rahul Gandhi has not been able to click as a leader acceptable to the country and said all Congressmen must reflect upon this.
"Rahul's communication skills are at best modest. Let alone the average common citizen, his ability to inspire even the Congress cadre is questionable. His understanding of economy is a suspect. But latest desperation that he has displayed makes one wonder whether his level of discourse can at all be prime ministerial," he said.
The BJP leader lauded Modi for his disclosures on his marriage saying this fact is sufficiently in public domain that Narendra Modi and his "wife" were made to solemnise a marriage as young children and they never lived together.
"Modi dedicated himself to spiritual and political activities. The lady lived with her parents, and worked as school teacher. By all accounts, the comments of lady have been extremely dignified," he said.
Jaitley said the requirement of filing an affidavit with the nomination form was directed by the Supreme Court as a part of the voter's right to know facts even about the private lives of their candidates.
"Since the marriage was never acted upon in accordance with the requirements of the then law, Narendra Modi was earlier leaving the column regarding the name and assets of his spouse blank," he said.