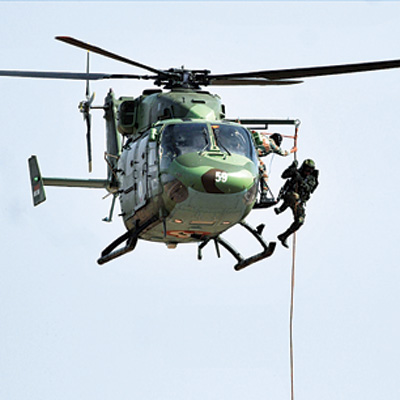 Army's high altitude operations have taken in hit as the fleet of Advanced Light Helicopter- Dhruv, has been grounded after Friday's crash involving seven IAF personnel including two pilots in Sitapur in Uttar Pradesh. These recently inducted ALH have been operating as the lifeline for troops deployed in the high altitude posts in North Kashmir, Siachen, Ladakh and parts of North-East, alongwith ageing vintage fleet of Cheetah and Chetak helicopters.
These choppers are considered as the lifeline for high altitude posts, which are inaccessible by roads to supply ration, equipment, weapons and casualty evacuation missions.
According to sources, HAL, which manufacturers Dhruv, were taken aback by the Dhruv crash, as the copter was cleared by the IAF itself for flying a week before the accident. The black box of the chopper has been sent to Bangalore for detailed examination and the entire fleet of ALH has been grounded for now. Meanwhile, defence minister Arun Jaitely is also considering Army's long pending demand of Light Utility helicopters (LUH). The Rs3,000 crore deal to procure 197 Light utility helicopters has been pending since 2007 over bribery allegations.
Considering army's demand, the Defence Acquisition Council, headed by Jaitely is expected to the take up the matter of 197 helicopters in its next scheduled meeting on August 7. Of the 197 choppers, 130 odd will be given to the Army aviation and remaining will be with the IAF.