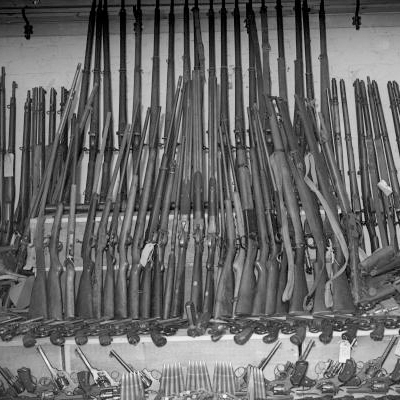 On a tip of intelligence, the Army and police in a joint operation busted a militant hideout in Jammu and Kashmir ahead of general elections.
The joint operation was led by the Army and police in Doda district on Thursday, said Senior Superintendent of police, Mohammad Sharif Chauhan.
"In a joint patrol led by army and SOG Doda Police for three four days, we detected a hideout which has been busted and we have recovered arms and ammunitions," said Chauhan in a news conference on Saturday.
A huge cache of arms and explosives including six weapons and eight kg of RDX, communication equipments, logistic support items, literature related to terrorists and Pakistan currency notes were recovered from the well stocked hideout.
The major recovered items included one AK-47 rifle with two magazines, one 303 rifle, two Chinese pistols with magazines, one 12 bore single barrel gun, one country made pistol, one Chinese sniper sight, seven hand grenades, one UBGL Grenade, explosives including eight kilograms of RDX, two electric detonators, six high frequency hand held radio sets among others.
Although no arrests have been made so far, combing operations by joint forces are underway.
The operation was conducted at the Bhaderwah-Doda belt in Udhampur constituency, which is scheduled to go to polls on April 17.
This is a major milestone achieved in a bid to tighten up security days ahead of the general elections which will be held in nine stages staggered between April 07 and May 12.