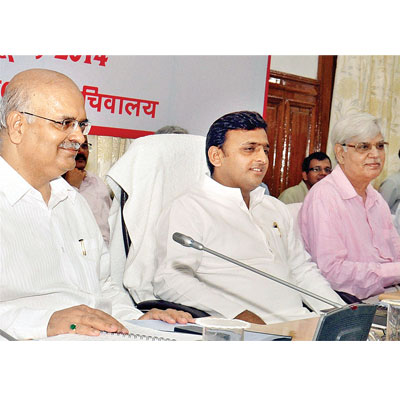 On a day when chief minister Akhilesh Yadav announced at a high-level meeting of the top brass of his administration that he would brook no compromise on law and order, his top priority, another BJP leader was gunned down in a brazen early morning shoot-out in west UP.
Just last Saturday, Vijay Pandit, a 27-year-old BJP leader, was shot dead in Dadri (Gautam Buddha Nagar) in west UP.
In the latest incident, Omveer (40), vice-president of the panchayat cell of the BJP's Muzaffarnagar district unit, was gunned down by unidentified assailants around 7am on Tuesday. The killers were lying in ambush, waiting for Omveer at a lonely spot near Meeerpur town of the district. As the BJP leader crossed them on his motorcycle, they shot him from behind.
Muzaffarnagar SP Vijay Jolly told reporters that Omveer, a retired armyman, shot one of the assailants with his licensed revolver even after falling from the bike. However, the two killers managed to escape on a motorbike while the BJP leader bled to death on the spot. They even took away Omveer's revolver, the police official said. Omveer, a farmer, was also a money lenader, but the motive of the murder is not clear yet, he told reporters.
The murder, just two days after Vijay Pandit's killing in Dadri, has once again raised serious questions about the Akhilesh Yadav regime's capability to control the steep down-spiral in the law and order situation in the state.
The market in Dadri remained closed for the fourth day on Tuesday as traders continued their dharna to press for a CBI inquiry into Pandit's murder. The slain BJP leader's wife Geeta Pandit, who is the local nagar palika chairman, has named senior Samajwadi Party leader Narendra Bhati as the main accused. However, the police have refused to enter his name in the FIR, interrogate him or take any action against him.