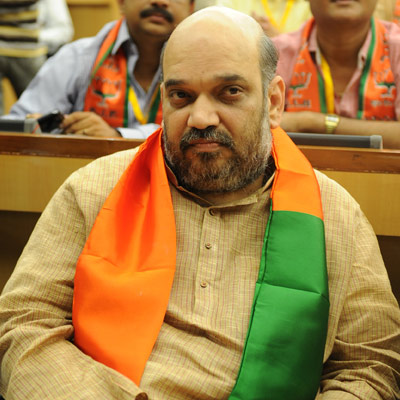 BJP general secretary Amit Shah Friday demanded the transfer of the Varanasi district magistrate, who had refused permission to the party's prime ministerial candidate Narendra Modi to hold a rally in the city.
Addressing a press conference here, Shah, a close aide of Modi, also said the party wanted that paramilitary forces be deployed in all the 18 constituencies in Uttar Pradesh that go to polls May 12 and not just in Varanasi.
"I want to tell the Election Commission that they are putting paramilitary forces in Varanasi, but not in Azamgarh from where (Samajwadi Party chief) Mulayam Singh Yadav is contesting. We demand that paramilitary forces be deployed in all the 18 constituencies," he said.
Shah said that Varanasi District Magistrate Pranjal Yadav should be transferred for the sake of free and fair elections.
"The EC should not go by what the state administration says in its reports. The DM is working on the orders of the state government," Shah said.
The Bharatiya Janata Party has protested the poll panel's decision to deny permission to Modi, the party's candidate in Varanasi, to hold a rally in Beniabagh, citing security concerns.
The Election Commission said the permission for the rally in Beniabagh, a congested Muslim-dominated locality, was denied following advice from the district magistrate and local authorities.
Thousands of BJP supporters protested in Varanasi and New Delhi against the Election Commission's curb on the Beniabagh rally.
Taking on former Uttar Pradesh chief minister and Bahujan Samaj Party chief Mayawati who declared Friday that her party will not support the BJP after the Lok Sabha election, Shah said his party believed that in politics, no one is untouchable.
"We don't believe in political untouchability. Whoever wants to work for the country's development can join the NDA," he said.
Shah further said that in UP, Modi was fighting the trio of Congress, SP and BSP.