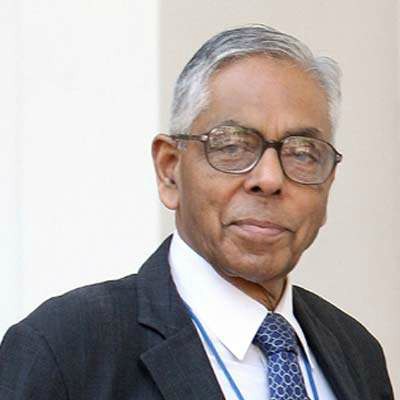 Much has been spoken about MK Narayanan after he quit his position as Governor of West Bengal recently. Union Home Secretary Anil Goswami had called some of the governors appointed during UPA's tenure to resign in the wake of change of government at the Centre.
Here's a brief history about MK Narayanan:
*MK Narayanan completed his graduation from Loyola College, Chennai. He is married to Padmini Narayanan and the couple have a son, Vijay, and a daughter, Meena. Their son-in-law Ajit Nambiar is Chairman and Managing Director of BPL Ltd.
*MK Narayanan, who was part of the group which had gone into the tendering procedures before purchase of helicopters in the VVIP chopper deal, has been quizzed by the Central Bureau of Investigation (CBI). Narayanan was the former National Security Advisor before being appointed as Governor of the West Bengal.
*Some BJP veterans are likely to be appointed as governors once some of the incumbents chosen by the previous UPA government make their exit.
*M K Narayanan joined the Indian Police Service in 1955 and passed out as the best all-round officer of his batch. After a brief stint as Sub-Divisional Police Officer in the erstwhile State of Madras, he went on deputation to the Intelligence Bureau in February 1959. The rest of his service career was spent under the Government of India, mainly in the Intelligence Bureau during which he dealt with a whole range of issues concerning internal and national security.
*He headed the Intelligence Bureau (IB) from 1987 to 1990, before heading the Joint Intelligence Committee. He became Chief of the IB again in 1991, before retiring in 1992. He was the Special Advisor for Internal Security to the Prime Minister of India beginning in May 2004.
*He is alleged to plant his staunch supporters as RAW and IB chiefs. He grew infamous when he wanted to sack the then RAW chief C D Sahay.
*He began systematically undermining Sahay and he planted his own man, Hormis Tharakan, former Kerala police chief who was occasionally deputed to RAW, as Sahay's eventual successor.
*On 24 Jan 2010 he became the governor of West Bengal. He took over from Gopalkrishna Gandhi who had a few disagreements with the CPM-ruled West Bengal on critical issues like violence in Nandigram and Singur. He was awarded with the Gusi Peace Prize 2011.
*Mayankote Kelath Narayanan was the 24th Governor of West Bengal. He was formerly the country's third National Security Advisor between 2005 and 2010 assuming the role after the demise of his predecessor Jyotindra Nath Dixit in January 2005.
Controversies: MK Narayanan as IB chief 'suppressed' Rajiv assassination video: Former CBI officer
A former CBI officer, who probed the Rajiv Gandhi assassination case, has claimed that a video purportedly showing the assassin Dhanu at the public meeting at Sriperumbudur on the fateful day had been suppressed by then IB chief M K Narayanan, now West Bengal Governor.
A letter written in this regard by Narayanan to then Prime Minister Chandrashekar makes a reference to the video but it was never brought to the notice of the Special Investigating Team, its then Chief Investigating Officer K Ragothaman has said in his latest book "Conspiracy to kill Rajiv Gandhi - From CBI files".
The SIT came to know of the video following a mention by the Justice Verma Commission (constituted to probe the assassination) as it was never brought to SIT's notice," he told PTI here.
Narayanan was not available for comments. Raj Bhawan officials in Kolkata said he is on a visit to Australia.
The video was shot by a local videographer hired by the organisers of that fateful public meeting, he said.
The letter by Narayanan, published as Annexure in the book says: "Barricading in the site of the meeting (to be addressed by Gandhi) was rudimentary. Neither double nor effecting barricade was evident. It was hence possible for those in the unsterilized areas to have access to the sterilized zone.
It has not yet been possible whether the lady (assassin Dhanu) made her way into the sterilised zone once Rajiv Gandhi approached or whether she had previously managed to stand in line as one of those offering salutations to Rajiv Gandhi.
Video pictures of this part of the meeting are presently being scanned to try and identify the lady," the letter by Narayanan said as mentioned in Raghothaman's book.
"It is a suicidal note from him. Had he not written it we would not have come to know (about the video)," Raghothaman said.
West Bengal Governor MK Narayanan resigns; CBI had questioned him on Friday
In his book, 'The Accidental Prime Minister', Sanjay Baru has mentioned MK Narayan in the following context:
Since Manmohan Singh's PMO also included a special adviser, a novelty created to accommodate M.K. Narayanan, part of the NSA's turf, namely the area of internal security, was hived off to him.
'National Security Adviser became the effective boss of IB and R&AW'. PM declined to take daily briefings from intelligence chiefs
Excerpts: It was clear to me that Dr Singh shared a bond with him (Mani Dixit) that was never there between him and Narayanan. It seemed plausible that the latter had been inducted as the third leg of PMO leadership as a concession to Sonia. MK, or Mike, as his contemporaries called him, was the intelligence czar who had headed the Intelligence Bureau (IB), India's internal intelligence agency, under both Rajiv Gandhi and Narasimha Rao. He earned his spurs by playing a role in the unseating of the first-ever democratically elected communist government in the world, E.M.S. Namboodiripad's ministry in Kerala, way back in 1957. He was director, IB, when Rajiv was assassinated. Narayanan's favourite line was, 'I have a file on you.' He used it, humourously, with ministers, officials, journalists and others he met, leaving them, however, with the uneasy feeling that he wasn't really joking. Indeed, Narayanan himself gave currency to the tales that circulated about his proclivity to snoop on everyone. He seemed to derive great pleasure in letting me know that he kept a tab on the credit-card spending of influential editors. On long flights in the PM's aircraft, he would regale us with stories about how various prime ministers had summoned him for information on their colleagues.