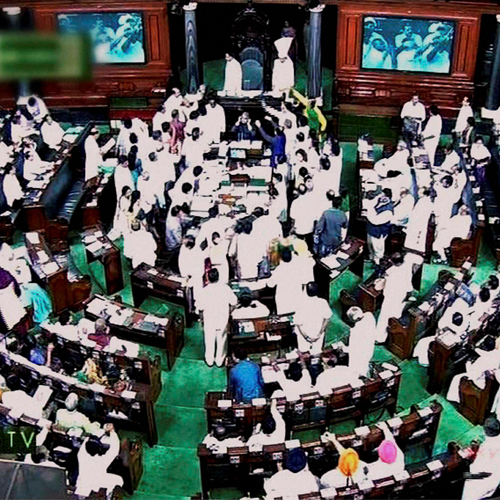 Trinamool Congress (TMC) and Aam Aadmi Party (AAP) staged a protest here on Wednesday outside the parliament against yesterday's scuffle between BJP leaders and TMC women members and the rail fair hike.
Condemning BJP's behaviour yesterday in the parliament, TMC leader Satabdi Roy said, "BJP leaders are saying that nothing happened. Not only TMC but other parties also who were present there have seen the scuffle.
At the same time she also showed her discontent over the railway budget saying it is not acceptable.
AAP leader Bhagwant Mann criticised BJP for its misbehaviour with TMC women member yesterday in the parliament.
"BJP leaders used slang words for TMC female members. I have heard it. When women are not safe in parliament then where else are they safe? Yesterday we had met speaker.
We said that video should be seen then only everything will be clear," said Mann.
A new low was witnessed in the Lok Sabha yesterday, as TMC MPs leveled allegations of abuse and misbehaviour against the BJP.
Women MPs from the TMC were vociferous over the alleged misbehaviour conducted by two BJP MPs. TMC MPs were seen rushing out of the Parliament after the reported scuffle.
The BJP on the other hand denied TMC charges and termed it mere drama, instead charged the TMC MPs shouting slogans against Modi and other BJP leaders.
Union Railway Minister Sadananda Gowda had presented his maiden Railway Budget on Tuesday, where he introduced a slew of reform measures to modernise Indian Railways.