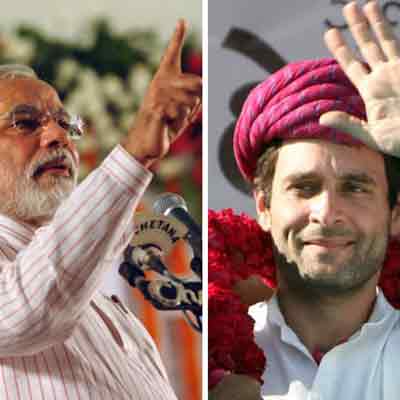 Congress candidate Imran Masood, who had threatened to chop Narendra Modi was arrested in the wee hours of morning on Saturday.
A video of Congress candidate from Saharanpur Lok Sabha constituency in UP, Imran Masood, surfaced on Thursday, showing him threatening BJP's prime ministerial candidate Narendra Modi.
Congress vice president Rahul Gandhi, who was scheduled to address an election rally in Saharanpur today, has reportedly cancelled the event in the wake of Masood's arrest.
The comment - "Hum Modi ki kutti kaat denge (We will chop Modi into pieces)" - made by Masood evoked sharp reactions from within political circles.
An FIR was registered against Masood on Friday for his controversial remarks at Deoband police station of Saharanpur.
The Congress nominee was booked under Section 125 (promoting enmity between classes in connection with election) of the Representation Of The People Act, and under Sections 153 A (promoting enmity between different groups), 295 A (deliberate and malicious acts, intended to outrage religious feelings or any class by insulting its religion or religious beliefs), 504 (Intentional insult with intent to provoke breach of the peace), 506 (criminal intimidation) of the IPC.
Besides, the nephew of former Congress Rajya Sabha MP Rashid Masood was also booked under provisions of the Scheduled Castes and the Scheduled Tribes (Prevention of Atrocities) Act.
A video, which has gone viral on the web, shows Masood attacking the BJP's prime ministerial candidate during an election rally in Saharanpur.
"If Modi tries to make Uttar Pradesh into Gujarat, then we will chop him into tiny pieces...I am not scared of getting killed or attacking someone. I will fight against Modi. He thinks UP is Gujarat. Only 4% Muslims are there in Gujarat while there are 42% Muslims in UP," he said.
However, he later apologised for his remarks, saying, "I should have been more cautious with my words" and that the same were said in the heat of electioneering.
Saharanpur district magistrate as well as district election officer Sandhya Tiwari said a CD with the recordings of Masood's statement had been received by them which has been forwarded to the Election Commission.
The BJP has condemned Masood's remarks and asked the Election Commission to take strict note of it, while ensuring the safety and security of all its leaders including Modi.
The BJP will make an official complaint with the EC today and a high-level delegation of the party would meet top poll officials in Delhi seeking strong action against Masood's remarks.
BJP leader Arun Jaitley accused the Congress of using inappropriate language, saying that it started with Sonia Gandhi's "Maut Ka Saudagar" comment on Modi.
In his blog, Jaitley said: "This is not an isolated case of an unacceptable attack on Narendra Modi. Sonia Gandhi, Lalu Prasad, Digvijaya Singh, Mani Shankar Aiyar have all led attacks on Modi in improper language. It started with Sonia Gandhi's words 'Maut Ka Saudagar'," Jaitley said.
"The mindset behind these attacks being made in unacceptable language is that an abuse on Modi is an expression of aggressive secularism."
BJP vice-president Mukhtar Abbas Naqvi alleged that political secularism was being converted into "Talibani secularism" and the kind of language used by Congress leaders is vitiating the atmosphere of elections.
Former Congress leader and now BJP's Domariyaganj candidate, Jagdambika Pal, has sought Congress' apology.
BJP's state spokesman Vijay Bahadur Pathak said the comments were not only threatening but also against the code of ethics that most politicians observe.
"I want to ask the Congress leadership if they support what their official party candidate has said. If not, will they cancel his candidature," Pathak told a news agency.
Congress spokesperson Randeep Surjewala, however, defended Masood, saying his statement has been distorted. "We have spoken to Masood about this. We have asked him to issue a clarification to the media if he thinks he was misquoted," Surjewala said.
Congress candidate from Ghaziabad, Raj Babbar, however, called Masood's remark "wrong and unacceptable".
Slamming Masood's remark as "uncivilised language", well-known cleric Maulana Khalid Rashid Firangi Mahali said such hate comments have no place in politics.
Communist Party of India (CPI) leader D Raja called it a serious matter. "The EC and law-and-order agencies must take note," said Raja.