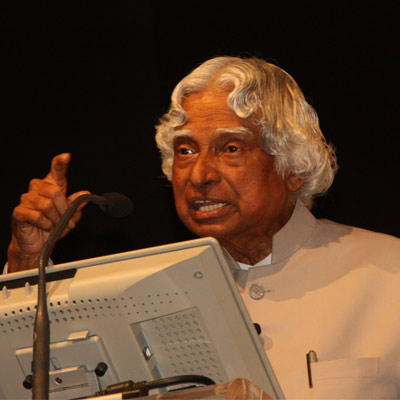 Economic growth or military strength alone won't make India strong, a truly sustainable society, at the heart of which is the family, is very much necessary, argues former President A P J Abdul Kalam in his new book.
Kalam and celebrated Jain thinker late Acharya Mahapragya in the book "The Family and the Nation" say that only a strong and happy family can lead to a strong and noble nation.
In writing the book, the ideas of the two authors were shaped by their interaction during the past few decades with millions of countrymen hailing from different walks of life.
"Each interaction enhanced our experience and added to our understanding of the development of a noble family, a noble society and a noble nation," they write.
While embarking on this journey of writing a book, we realised the magnitude of connectivities involved and the extent of our society's evolution during the last few centuries," they say.
"It is true that all of us realise that today's world is a connected one. Technology and travel have nearly made the world a global village. The world has to become a federation of nations. A nation is a federation of states, social groups, families and individuals. So what is needed is a situation of live and let live.
"One's needs, aspirations, accomplishments are all important. But there has to be a concept of a noble nation, where the welfare of the whole nation as a whole is ingrained in the thinking and actions of its people. This is the need of the hour. How do we achieve this idea of a noble nation," the authors ask.
According to them, their visualisation of a noble nation is two-fold.
"One is internal, concerned with the individual and encompassing the family, community and society. Another concerns enterprise and covers the issues of livelihood, business, distribution of wealth and respect for individual property and rights," they say.