As reality weighs in, odds mount against Aam Aadmi Party's chances of forming a durable government.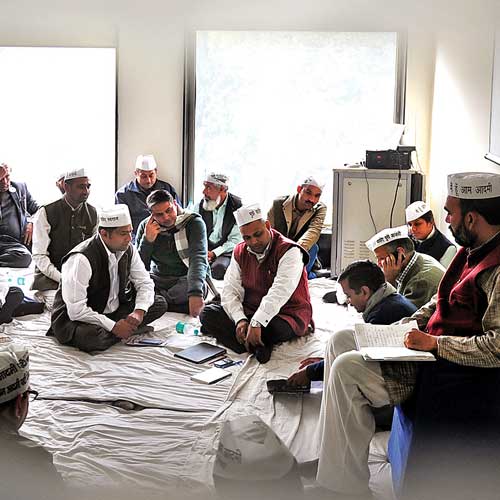 It's a dream come true. A less than a year old political outfit going by the name of the nondescript common man pulls off a stunning electoral performance, and is now poised to form the government in Delhi. But will the AAP Cinderella story last, and for how long?
The answer to that is, for as long as it sticks to the unwritten script, and keeps its hands off Congress leaders charged with corruption in the many scams that were part of the Sheila Dikshit government fare — one of AAP's poll promises was to go after such leaders.
Now, it will have to hold itself back though pulls and pressures are mounting. The BJP is already on AAP's back, asking it to probe the CWG scam as soon as AAP forms the government. And BJP's Delhi unit has been told to get set for another round of assembly polls with the 2014 Lok Sabha elections. That's the time Narendra Modi's BJP has allotted to Kejriwal and the AAP to experiment in Delhi.
AAP knows that its will be a short-lived government — at the mercy of the Congress. The Congress is only buying time to regroup for 2014, and will withdraw support the day AAP opens corruption cases against Congress leaders, and definitely before the Lok Sabha polls. Oblique warnings have been delivered to AAP, and "unconditional support" has become "conditional support".
So, the AAP knows it stands little chance to last. Therefore, Kejriwal's government-to-be will focus first on the "positive". It will tackle issues that will provide immediate relief to the people of Delhi.
"Our priorities are issues like water availability, lower electricity tariffs, ending VIP culture and bringing in the Jan Lokpal for Delhi," a senior AAP leader told dna.
AAP has to deliver on these promises, and that too before the model code of conduct for the 2014 general elections kicks in. That gives an AAP government less than four months to deliver on the promises. On Monday, within hours of Kejriwal meeting the Lt governor, AAP was already talking of the "duration" of its government. "We are not sure of the duration of Congress support. They have already changed from unconditional support to issues-based support," the leader said.
AAP's poll promises weigh heavily on the minds of Kejriwal & Co. So, just to be safe, AAP has decided to go slow on its anti-corruption drive, for now.
"Chances of inquiries being ordered into scams in the first month itself are low," the senior leader said. AAP knows it has to tackle not just corrupt Congress leaders but also an entrenched bureaucracy.
Many in the Congress are wary as AAP has been surprising one and all with its unconventional brand of politics. Dikshit on Monday reportedly conveyed these feelings to Congress president Sonia Gandhi. But it was at the insistence of Sonia Gandhi that the Congress offered to lend support to an AAP government. The day Sonia feels otherwise, the AAP government will fall. The all-round consensus is the AAP government will in any case not last beyond mid-2014.
The poll promises that it made are too many, and too ambitious. The Congress is fickle and playing to a game-plan. Kejriwal will head a minority government. The dream may end sooner rather than later. And then, Kejriwal will have to script another Cinderella story.