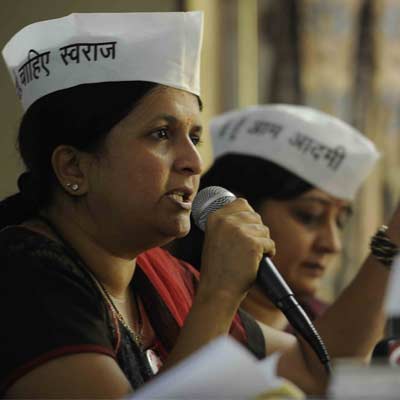 Rejecting speculations that are making rounds in the political arena after Arvind Kejriwal's appeal that 'the party should not contest upcoming assembly elections and focus on Delhi', the state convener Anjali Damania told dna "the party may not be contesting all seats but would be contesting one fourth of the seats.
Arvind Kejriwal, in an interaction on on Google Hangout with party's Delhi volunteers, said:"The Aam Aadmi Party should not contest in Haryana and Maharashtra Assembly polls and focus only on Delhi.
Talking to dna Damania said: "During the national executive meet I had kept the proposal that we should first do the internal assessment and then take a final call. We have asked district committees to submit the report on various election related aspects before 7th of July. Till now we have had nine 'Chintan Shibhir' in Maharashtra. Though we haven't yet decided on what constituencies we should filled candidates, we would be contesting the state elections. Members and party workers would take a final call."
"During Lok Sabha elections, Modi sold a dream to people of the country. But in the state there is no 'Modi' and no strong leadership. BJP lacks a credible face, while Congress-NCP alliance has worsen the state condition." she added.
Party think tank fielded more than 400 candidates for the Lok Sabha elections, but it had faced a major defeat, where even the party's every prominent leader, including Kejriwal, suffered a loss.
Except for winning four Lok Sabha seats in Punjab, the party failed to open its account in any other State. In Maharashtra it had contested 48 seats, out of which 47 candidates lost their deposits.
Although the current government is stable, the prices of petrol, sugar and rail fare has gone up, she said, "The required change is not taking place. Whatever is happening is inevitable. During the Lok Sabha we focused on the issue of corruption, but if the 90 per cent money is siphoned off and only 10% is used, then how will progress take place? Before contesting election, we want to have a concrete 'plan' She added.