The site now lists all the achievements of the party with beautiful graphics, no BJP/ Modi bashing now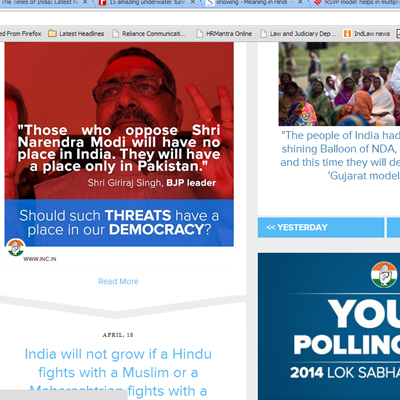 A day after dna reported that the Congress website was highlighting the negatives of their opponents-the BJP and its prime ministerial candidate Narendra Modi and talked less about own achievements, the party seems to have taken corrective measures by overhauling the website contents on Tuesday night.
The website now lists all "achievements" of the party in past five years with beautiful graphics covering the 75% of the homepage. The achievements includes right to food, 8% GDP growth, 25% of women cops in every police station, 90% increase in rural electrification, bank/post office account for every citizen among few.
Interestingly, all the contents related to Modi and BJP bashing has been removed from the site now giving it a fresh, unbiased and positive look. The website which earlier carried the links of the interviews of Rahul with the headings, "India will not grow if a Hindu fights with Muslim" and "Mr Modi has a strong predilection of crony capitalism and we must challenge on him", were since replaced with the plain headings.
The observers appreciate the move but said it's "too late" now. "Most of the states have already gone to the polls. Very few seats are left. The change will have no impact on the party's outcome," said a senior party functionary lashing out at the campaign strategists.
In the April 21 edition, dna had highlighted the flawed campaign strategy of the Congress which was being looked after by the Dentsu Taproot-a multinational PR agency. The website still talks about only Rahul Gandhi with displaying his photos and interviews prominently. The only mention of the party president Sonia Gandhi and PM Manmohan Singh on the site is through a photo at the party manifesto release that too at the bottom of the page.
The agency, reportedly had picked by Rahul Gandhi himself, was being criticised since its appointment which followed by Gandhi's interview to a leading English news channel. The firstever interview of the Gandhi scion almost exposed how unequipped and unprepared the party's commander-in-chief was ahead of the biggest battle of 2014.