In an exclusive interview with dna, BJP MP from Arunachal Pradesh Kiren Rijiju speaks about development in his state, China, Naxalism, and the BJP win in the Northeast.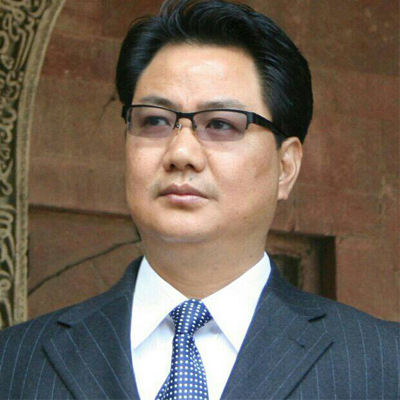 Forty-three year old Kiren Rijiju was elected to the Lok Sabha for the first time in 1994 from Arunachal Pradesh, the largest state in the Northeast which spreads over 83.743 square km and has a population of 10.96,702. Arunachal Pradesh had always been a Congress bastion, but just like the story in many states, the Bharatiya Janata Party​ (BJP) wrested power from them in the Arunachal West parliamentary seat, with BJP candidate Kiren Rijiju dethroning sitting Congress MP Takam Sanjoy by a margin of 41,738 votes.
In an exclusive interview with dna, Rijiju spoke about development in Arunachal Pradesh, China, Naxalism, and the BJP win in the Northeast.
You won from Arunachal West in the 2014 Lok Sabha elections, giving the BJP one seat out of the two in Arunachal Pradesh. The BJP also improved its performance in the Arunachal Pradesh assembly polls, winning 11 seats, compared to the three seats it won in 2009. What, according to you, is the reason for this shift of the people's confidence from the Congress to the BJP?
It has been 67 years since India gained independence, but the basic signs and symbols of development are still missing in Arunachal Pradesh. There are no airports, no railways, no stadiums, no proper high quality medical facilities, and a lack of good educational institutions. All this while, the central government paid no attention to these problems. People of Arunachal have lost faith in the Congress party and all the corruption. I, on the other hand, have worked with my party (the BJP) and tried to make a difference on a clean and transparent note. I have never indulged in any corrupt practices, so the people trust me and the BJP.
In the past you have often complained that the government has done very little to stop intrusions along the LAC (Line of Actual Control). How will you work with a Modi government to ensure good relations with China, and also to stop these intrusions?
We, the BJP don't go for aggression. It is a wrong idea many people have, that the BJP is going to be very aggressive while dealing with China. Our foreign policy should not be, and is not based on, the policy for expansion. Yes, China is a powerful country, and almost a superpower, but this does not mean we will be submissive to them. We will engage as equal partners in all matters to ensure peaceful relations. But we will continue to strengthen our border areas and improve the infrastructure there, paying close attention and giving priority to the neglected and vulnerable parts of the state.
The youth has played a major role in deciding the future of the country. What message do you have for the young people interested in becoming politicians?
There are two words, 'hope' and 'despair'. There is a lot of despair and cynicism nowadays, and people tend to think that everyone is corrupt. What I say is, we must remove all that negativity and cynicism and we must generate hope. Hope is important because it gives people a lot of confidence. This is one of the reasons why the people chose the BJP this time. They felt that the party, along with Narendra Modi, gave them hope for a brighter future and a better country.
You started out young in politics and have climbed the political ladder, with posts such as the BJP national secretary gracing your resumé. What made you join active politics so early?
When I finished studying law, I had a choice between taking up law as a full time profession, or politics. I decided to remain in politics because I wanted to make a platform to make a change. I am a young leader and have been able to gain the support of the people and the youth. I have always wanted to work for my state and country.
What are some of the main issues you are going to work on this time?
I'll talk about this by dividing it into 'hard' development and 'soft' development. On the hard front, I will try to undertake a massive pumping of funds to the state for infrastructure projects such as highways, airports and railways, along with industries. From the Centre, I will make sure that all funds are allocated for these projects in a transparent manner.
On the soft front, I will concentrate on health and education, because I believe that these two factors are the basis of development. Provision of good medical facilities and educational institutions are of utmost importance for development.
After this I shall concentrate on the cultural and social aspects. Arunachal is a beautiful place to visit, and I will try to increase the level of tourism, while displaying to the country and world the beautiful culture of the place.
Industries are important for the purpose of job creation, but there are hardly any heavy industries in Arunachal Pradesh. What are your plans for job creation and industrial development?
Industrialisation is very important to create jobs, and more jobs means more generation of revenue, which can be used for more developmental purposes. In this way, money creates money. Arunachal Pradesh does not have a strong industrial platform or background. It has been dependent on small trading and local industries. The GDP growth here has also been minimal. What we have to work on, is to get the GDP of Arunachal to 10. My work will be to channel funding for the state, maintaining complete transparency while doing so, along with increasing investment in the area. For this, the state and the Centre will have to work actively together, making sure progress takes place in Arunachal.
Arunachal Pradesh had one of the highest voter turnouts recorded among the states, with over 70%. Do you think this sends a strong message to our neighbour China?
The 70% voter turnout is a statement the patriotic people of Arunachal have given. By exercising their democratic right, they have proved they are proud to call India their home, and want to actively take part in all its matters. All countrymen should be proud of this voter turnout. Arunachal Pradesh is a land of patriotic people and nothing can change that.
Naxalism seems to be spreading in the Northeast. This is not good for any democracy. Why do you think the Naxals are gaining ground in the Northeast, and what can be done to control it?
Naxalism gains strength when people are dissatisfied with the government and the lack of development in the area. They take up Naxalism to rebel against the government. There is a lack of growth and development in the Northeast of the country, and this is why we see a lot of Naxal activity there.
What we have to do is create a lot of job opportunities in that area. The people, especially the youth, need some kind of engagement with economic and developmental activities. I can tell you that the people of the Northeast are infused with a sense of determination and are capable of a lot of hard work. What we have to ensure is that enough and plenty opportunities reach them.
The Northeast of India should not be left out from the growth and success story of the country in the coming years. What can be done to bring the dreams, aspirations, opportunities and voices of the people of the region centre stage?
The first thing I can say is: commitment to development. People have to actively take part in developmental activities, and make sure that no countryman gets left behind. Equal opportunities have to be made available to everybody. Also the central and state governments must work together vigorously. Proper funds have to be allocated to the states in a very transparent manner, and there has to be complete resistance to corruption at every level.