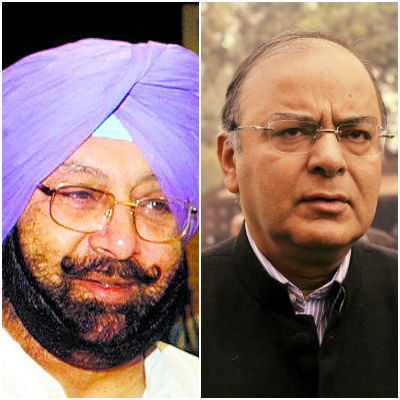 The smashing victory of the Bharatiya Janata Party (BJP) in the 2014 general elections with 282 seats has ended the Congress-led UPA government's rule. This means that most of incumbent Congress seats were acquired by the BJP this time. But there still are some constituencies that were the BJP stronghold and have instead elected the Congress party this year.
Amritsar, Punjab
Amarinder Singh from the Congress party defeated BJP's candidate Arun jaitley in Amritsar with a whopping 1,02,770 votes. Cricketer turned politican Navjot Singh Sidhu was the member of parliament from Amritsar after he was elected in 2004 and again in 2009. The BJP chose Arun Jaitley over Sidhu for the 2014 elections.
Silchar, Assam
Silchar constituency in Assam where the BJP candidate Kabindra Purkayastha had won in 2009 lost to the Congress party's Sushmita Dev by 35,241 votes. Purkayastha came in second with 30,120 votes to his name.
Durg, Chhatisgarh
Tamradhwaj Sahu won from Durg constituency of Chhatisgarh. The Durg seat had been a BJP stronghold since 1996 which went to the Congress party in the 2014 Lok Sabha Elections.
Chikkodi, Karnataka
The Congress party fileded Prakash Hukkeri to take on BJP's Ramesh Vishwanath Katti from the Chikkodi constituency in Karnataka. Katti who had also won in the 2009 elections was defeated by Hukkeri by a margin of a mere 3003 votes.
Raichur, Karnataka
The Raichur constituency seat is reserved for candidates belonging to Scheduled Castes (SC). Congress Party's BV Nayak defeated incumbent BJP's candidate Arakera Shivanagouda Nayak.
Chitradurga, Karnataka
Chitradurga seat is also reserved for candidates belonging to Scheduled castes. The Congress party had fielded BN Chandrappa to fight it out against BJP's Janardhana Swamy. Chitradurga was more or less a Congress bastion before Swamy won in 2009.
Tumkur, Karnataka
SP Muddahanumegowda of the Congress party won against BJP's GS Basavaraj by 74,041 votes from Tumkur.