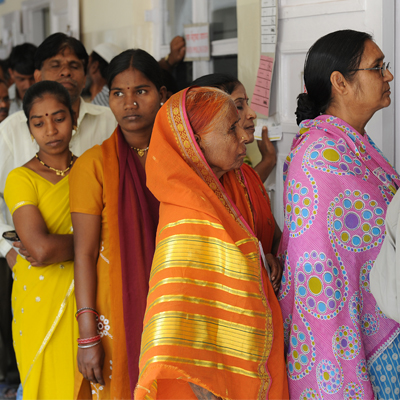 Around 14% voters exercised their franchise till 10 AM in 13 Lok Sabha seats in Punjab where minor clashes broke out between Akali Dal and Congress workers in Moga and Amritsar.
The polling process started on a sedate note, but gradually picked up as the day progressed with voters lining up outside several polling booths, including in Patiala and Amritsar, to cast their vote, an election office spokesman said. Ten persons were involved in a clash at Sangatpura in Moga while Putlighar area in Amritsar witnessed a scuffle between activists of Congress and Akali Dal. However, no one was seriously injured in the clash as police intervened to restore peace.
Many polling booths in Amritsar wore a festive look with rangoli and flowers greeting voters. Wheelchairs were arranged for handicapped voters at some booths. BJP's Amritsar Lok Sabha seat candidate Arun Jaitley, who is not registered as a voter in Punjab, paid obeisance at the Golden Temple, and urged people to come out in larger numbers to exercise their franchise.
Jaitley said he will cast his vote in Ahmedabad in Gujarat later in the day.
SAD's Sangrur candidate Sukhdev Singh Dhindsa and Aam Aadmi Party (AAP) nominee from Patiala Dharamvir Gandhi were among those who cast their vote. "There is a AAP wave in Punjab and we will surprise all by winning maximum seats," Dharamvir said. Raninder Singh, son of former Chief Minister and Amritsar seat Congress candidate Amarinder Singh, franchise, exuded confidence that Congress will sweep the polls in the state.
Congress candidate Manpreet Singh Badal, an estranged nephew of Chief Minister Parkash Singh Badal, said there is "misgovernance" in Punjab with mafias controlling all businesses.
"The polls are about the pride of Punjab...We (Congress) will bring rule of law in the state," he said after casting his vote. Manpreet's rival and SAD candidate Harsimrat Kaur Badal also cast her vote in Bathinda.
Harsimrat, who is wife of Deputy Chief Minister Sukhbir Singh Badal, said there is anti-incumbency against the UPA government and the NDA will come to power at the Centre. She refuted corruption charges against the Badal regime and blamed the drug menace in the state due to inflow of contraband from across the border. "Congress is deaf and dumb to problems of Punjab," she said.
Punjab Congress Chief Partap Singh Bajwa and his MLA wife Charanjeet Kaur exercised franchise in Qadian in Gurdaspur. Bajwa claimed that SAD-BJP will be wiped out of Punjab as Congress is set to win all 13 seats.
The Ludhiana district administration handed out 'joyful voting' certificates to those casting their votes. In Patiala, Capt Amarinder Singh's son Raninder Singh cast his vote at Govt College for Girls soon after the polling started. AAP candidate Dharamvira Gandhi casts his vote at Govt College for women in Patiala.
The SAD-BJP nominee Deepinder Singh Dhillon cast his vote in Chat village of Mohali district falling under Patiala constituency. Prominent candidates among a total of 253 in Punjab include leader of opposition in Rajya Sabha Arun Jaitley and his Congress rival Amarinder Singh from Amritsar seat and Chief Minister Parkash Singh Badal's daughter-in-law and SAD MP Harsimrat Kaur and nephew Manpreet Singh Badal of Congress from Bathinda.
Actor-turned-politician Vinod Khanna (BJP) and his rival Punjab Congress Chief Partap Singh Bajwa from Gurdaspur, Leader of Opposition in Punjab assembly Sunil Kumar Jakhar (Congress) against SAD's sitting MP Sher Singh Ghubaya from Ferozepur, Congress veteran Ambika Soni against Akali stalwart Prem Singh Chandumajra are among others in the fray.