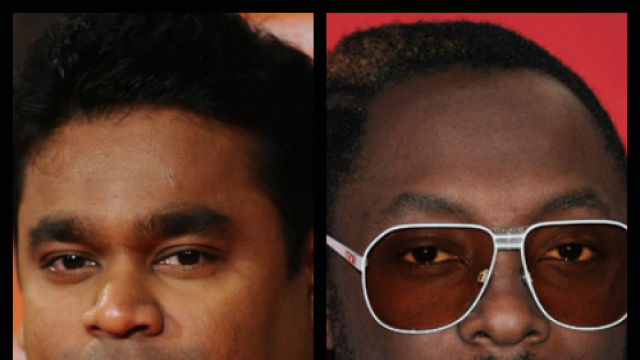 Many of AR Rahman's songs have been incorporated by international artists and Hollywood movie directors in their works. The latest being will.i.am's take on AR Rahman's Urvasi Urvasi from 1994 Tamil film Kadhalan. Will.i.am has taken samples and melodies of the hit song and has collaborated with upcoming new artist Cody Wise to make It's My Birthday.
The song also features R&B artist Cody Wise. The video of the song shows producer Will.i.am and his protege, Cody Wise, indulging in a crazy birthday party. The song will be available for download on July 6. The "Birthday" song follows the tune of Rahman's peppy number that originally featured in Tamil film 'Kadhalan', which was dubbed in Hindi as 'Humse Hai Muqabla' and in Telugu as 'Premikudu'.
Will.i.am has reportedly co-produced his new electro infused soundtrack with Damien LeRoy, and it was co-written with Rahman, up-and-coming R&B artist Cody Wise and US producer Keith Harris.
The Hollywood spin given to Rahman's song is really good. As for the tune, it's almost the same. However, the song received mixed responses, with most fans complaining that Rahman's tunes had been completely messed up. Others said the video was poorly made and uninspired.
Rahman has even given soundtracks to Hollywood films such as 127 Hours, The Million Dollar Arm and now, his
chart buster
Urvashi

Urvashi
that was originally composed in Tamil but it became such a big hit that later it was composed in Hindi too. And now the same tune has been recreated by American rapper will.i.am for his new song.
The 'Mozart of Madras' is excited about the creative partnership. "Excited to creatively partner with will.i.am to recreate an early popular track of mine in a new flavour," Rahman posted on his Facebook page Wednesday.
AR Rahman rose to international fame even before he got his two Oscars, a Golden Globe and a BAFTA for Slumdog Millionaire's soundtrack. His debut soundtrack, Roja, has featured on Time magazine's 10 Best Soundtracks of All Times.
Apart from working for movies to the likes of Shekhar Kapur and Spike Lee, his other Western collaborations include Andrew Lloyd Webber's staged musical Bombay Dreams and Lord Of The Rings by another Toronto based theatre production.​