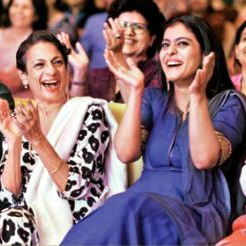 Mother-daughter duo Tanuja and Kajol were in the city on Thursday to support and spread breast cancer awareness. They both feel the connect and think that it can be fought and survived.
Kajol has a lot of memories coming to Pune as a child to meet her relatives, but this time her trip to Pune had a significant reason. To show her support for those suffering from breast cancer, the actress was spotted at a symposium organised by Prashanti Cancer Care Mission and Orchids Breast Health, along with her mother Tanuja, who has been a part of this program for a long time. Ever since Tanuja lost her mother and sister to cancer, she has been actively trying to spread cancer awareness among women. Kajol has just started following in her footsteps. While addressing the gathering she said,
"I have a personal experience with cancer patients and I believe that when a single woman suffers from cancer, her entire family does as well."
They both urged all the women to take responsibility for themselves and fight the cancer because it is possible. Kajol believes that it is just the word 'cancer' that makes people apprehensive of approaching a doctor, but the medical facilities present today are more than equipped to handle anything that comes up as far as breast cancer is concerned, if detected early on.