A micro-comparison of some problems that drivers in Mumbai, Bengaluru and New Delhi face, throws up some similar concerns from three different metropolises.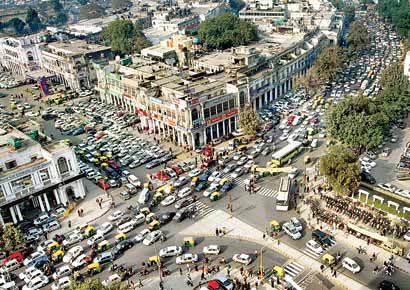 Artist Jitish Kallat likes to put the problem of driving in Mumbai city humorously. He says, "Durng peak traffic, the footprint occupied by vehicles exceeds the space which the streets of Mumbai have to offer. There is a fear of stagnation that arises in drivers' minds, the possibility of total immobility, something that could be part of each of our future realities."
Jitish says that when trapped in a traffic jam in Mumbai, which redefines snail's-pace movement, he uses that time artistically to challenge his inner reality. "When there is chaos with the traffic outside and complete silence within, it is a meditative challenge, one that I use to find sweet internal resonances in. But, this is only when somebody else is driving and I'm just a passenger. When I'm actually driving the car myself, that's another story."
Publisher Farzana Contractor's pet peeve about traffic in Mumbai is the random lane-changing that some sections of the population indulge in. "Some people, especially taxi drivers weave in and out of traffic with no regard to road rules or etiquette. That for me is the biggest problem. It requires sharp road skills to avoid a collision in such cases or avoid having your car brushed against." Farzana says she's got herself an SUV as a result, something that errant road drivers generally steer clear of.
"Another big problem is finding parking in the city — there are simply not enough spaces — which is why it's important to have a driver here." She adds for good effect that patience and maturity are two qualities that Mumbai drivers ought to develop in large measures, in view of the traffic issues here.
New Delhi-based media entrepreneur Iqbal Malhotra has a similar tale to tell as regards to the traffic situation there. "The biggest irritant about driving in Delhi is the lack of road manners here — particularly by the three- wheeler scooter and tempo drivers, who are extremely rough and inconsiderate on the roads," he says.
"The way they drive often makes me wonder how they ever got their driving licenses. I definitely feel driving re-tests for commercial drivers ought to be made mandatory in order to secure the safety of the citizens in this city," adds Malhotra.
He goes on to add, "Another issue is that people in Delhi don't give way to traffic on their right which as everyone knows is a rule of the road." Iqbal who owns both, an sports SUV and a luxury car, says that because this rule is often broken he's most jittery when driving his luxury car. "Even so much as a scratch or minor dent on it can result in damage-repair worth thousands of rupees," he says ruefully.
Bengaluru-based human resources consultant Anu Sharma says she has lots of peeves with respect to the traffic in her city. "There is always some construction work going on in the city and traffic is immobilised as a result. Also, due to one-ways and other road mapping issues, a traffic gridlock often forms here and one is stuck in traffic with no movement whatsoever for long periods of time."
Anu laughs that the drivers in her city are 'terrible'. "There's a lot of traffic indiscipline and drivers often take their vehicles onto the footpath in order to get ahead. The aggression among drivers has gone up and they will do anything to get ahead. As a result when one is driving, emerging without being frazzled has become near impossible. The only time I really enjoy driving is on the weekends when traffic is at its minimum or when I'm driving to the outskirts of the city which are relatively non-crowded."