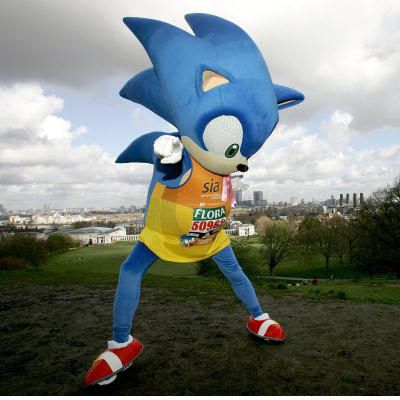 Sonic the hedgehog, the speedy blue 90's mascot of Sega, celebrated its 23rd Birthday on Monday.
The game, with the world's fastest hedgehog, was released on June 23, 1991 in North America and Europe, to rival Mario and Link, Nintendo's flagship characters. Starring in over 30 games, with 80 million game copies sold worldwide, Sonic is one of the best-known video game characters in the world.
Sonic became a pop culture icon and has also been seen in the Rose Parade in 1996, a first for any video game character. Another first, was featuring as a balloon in the Macy's Thanksgiving day parade. Today, games starring sonic are available on all platforms, Xbox 360, PlayStation 3, Wii, Nintendo DS, Microsoft Windows, iOS, Android etc.
The major characters in Sonic's life include Miles Prower, commonly known as Tails, (a young fox with two tails, who Sonic treats like a young brother and best friend), Amy Rose (a pink anthropomorphic hedgehog who's advances and marriage proposals Sonic always turns down). His arch enemy, Doctor Robotonik,a mad scientist in a shape that gave him the nickname of "Doctor Eggman" appears in most Sonic games and is the Final 'Boss' that sonic has to defeat at the end of the game.
From Sonic the Hedgehog on the Sega Genesis/Mega Drive to the latest Sonic boom released on Wii U and Nintendo 3DS, Sonic has seen a few transformations, the most noticeable being 'Super Sonic', the faster, flying version of Sonic. His major powers include 'Spin Attack', 'Spin Dash' and 'Homing Attack', all of which use his greatest strength, his running speed. Described as being "like the wind" by Sega, the only chink in Sonic's armour of invincible powers, is his inability to swim.
If being a favourite in the gaming world wasn't enough, Sonic has animated movies and comics made on and about him. The first comic, printed in the Disney Adventures magazine, gave the world it's first glimpse into the life and history of the blue hedgehog. Many other comics and novels were written using the comic as their basis. Adventures of Sonic the Hedgehog, the first animated series based on Sonic's life, was aired in 1993 and borrowed its storyline from the plot of the game.
An inaugural Walk of Game member, Sonic has entertained generations of kids. Even today, 23 years after its launch, Sonic continues to be one of the most favourite characters and is the first foray into gaming for children the world over.
On Monday, Sega wished their favourite character on Twitter.
Happy 23rd Birthday, Sonic! Share your birthday wishes and best Sonic memories with #HappyBirthdaySonic. http://t.co/YvC8uRjbHT

— Sonic the Hedgehog (@sonic_hedgehog) June 23, 2014
They also prepared a tribute video. You can watch it here:
Gamers all over the world, took to Twitter and Facebook, to express their love and admiration along with their birthday wishes using #HappyBirthdaySonic. Some of the tweets are below.
I was Sonic for Halloween once. Everyone thought I was a blue dinosaur. o_0 "@SEGA: Share your best Sonic memories with #HappyBirthdaySonic

— Jason Leavey (@JasonTheGamer) June 23, 2014
@SEGA Happy Birthday Sonic! Thanks for all those awesome memories kicking Eggheads butt

— Kristina Nunez (@DoremiHedgehog) June 23, 2014
@sega Sonic is one of the only things I've loved for my full life's duration. Who'd have thought it? Thank you and #HappyBirthdaySonic!

— Jason Marone (@JCMarone) June 23, 2014
Oh my god! @sonic_hedgehog is 23 years old!! I feel so old! Sonic was my entire childhood! @Sega #HappyBirthdaySonic pic.twitter.com/8IbavL2y9Y

— Brock Lesnar Guy (@BrockLesnarGuy) June 23, 2014