Learn to bake Gooey Dark Chocolate Cupcakes, six different types of Diwali fondant toppers and much more!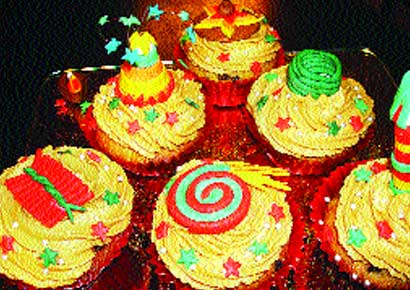 Workshop
Thursday
A photography course is being conducted by Andrea Fernandes and Philippe Calia at Art Loft in Bandra. It is designed to help photography enthusiasts get their cameras off automatic/priority mode. This course will equip you with all the information you need, to be a more confident and sensitive photographer.
You will master the basics of photography in four sessions.
Call 9167606469
Thursday
The Dessert Cart is conducting an exciting hands-on Diwali themed cupcake making workshop.
Learn to bake Gooey Dark Chocolate Cupcakes, six different types of Diwali fondant toppers and much more! Call 9930398884
Saturday
WIFT (Women in Film and Television Association India) is conducting a workshop with Vidya Balan, where the actress speaks about the portrayal of sexuality in the female protagonist role. An hour session followed by an in-conversation with film critic and author of Mother Maiden Mistress, Bhawana Somayaa along with co-authors Jigna Kothari and Supriya Mardangarli.
At Le Sutra, 2.30pm-5pm
Art
Pradarshak presents Expressions, a solo exhibition of semi-abstract figurative paintings by Ramesh Deshmane. The current exhibition is titled portrays the unmistakable aura of self-expression. The palette is vivid, in a skilful application of 'chiaroscuro' expressing joy.
Call 26462681, 98204 60587
Thursday
Try the new menu at 36 Oak & Barley. Now, on offer, are yummy Tom Yum Soup, delectable Poutine, mouth watering Khao Suey and Patatas Bravas to everyone's soul favourite Kheema Pav. It is indeed, the right time to celebrate food.
Call 23811010.
Woodside All Day Bar & Eatery is organising a Beer Appreciation and Tasting session which will be open to beer connoisseurs and enthusiasts alike. This time, each of the beer brands served will be part of a rich heritage of beers that were first brewed more than one hundred years ago!
From 9pm to 10:30pm
Friday
Golden Star Thali Restaurant is celebrating the festive season by serving a sumptuous thali, showcasing the best of Gujarati and Rajasthani cuisine lavishly. All your favourite Gujarati and Rajasthani food and delicacies will be served unlimited during this utsav. So feast on Malai Cham Cham, Ras Malai, Angoor Rabdi, Kesar Puran Polis, Desi Ghee Jalebis, Dry Fruit Sheera, Gulab Jamun and many more delicacies.
Call 67581835 / 67581836.
This Diwali, head to your nearest Cookie Man outlet and treat yourself, friends and family to a scrumptious hamper from them. It also has a range of sugar-free- cookies that are highly recommended if you are watching your calories but still crave a little indulgence. Offering a selection of treats, from traditional crunchy cookies to cream-filled cookies, and exotic chocolate dipped indulgences they will delight your loved ones.
Gigs
Thursday
Catch the official global line-up for TATW 450 spin in popular nightclubs all this week. Artist Mat Zo will be performing at Royalty. before the grand arrival of the world's the most popular and longest-running music radio show across the world in India. TATW450 is heard by 30 million fans across 35 different countries in six continents via 237 FM stations.
Thursday
KJ Mario Andrade will host a Karaoke Night at Manchester United Café Bar. Enjoy a night full of music, drinks and singing!
Saturday
Jam Adda presents , four Hindi Rock Bands Live at United 21 Orbit Discotheque. Rock your mind and soul with 4 Hindi bands— Sparsh, Winit Tikoo, What's In The Name and
Coshish