Shilpa Rao, who is the voice behind many a Bollywood beauty, says Tabu tops her wish list.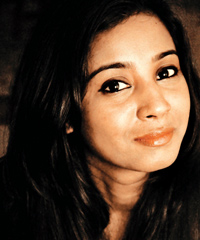 It's just not Deepika Padukone, Vidya Balan, Priyanka Chopra and Anushka Sharma who have danced to her tunes but the entire nation. Khuda Jane…., Mudi Mudi…. Tose Naina Lage…Saiyan re…. and Jazba... from the recently released Ladies Vs Ricky Bahl — name it and Shilpa Rao has hit gold with each of her tracks.
Ask her how she does it and she says, "I have never looked at music as a profession, it comes to me as naturally as life does. So I just believe in enjoying every song."
Shilpa who was singer Hariharan's find had an early tryst with music. "Hariharan, who is my father's friend, heard me sing as a 13-year-old and insisted that I focus on music. Thereafter also I have had mentors who have helped me put my potential to best use and kept my morale high," she says.
That she has put her potential to good use is beyond all doubt, for not only has she sung chart toppers but also collaborated with major bands. "Collaboration is the key word in today's musical scenario. It should happen more often in India. It allows artistes to enhance their sensibilities." The singer who has collaborated with Agnee and Parikrama adds that web concerts that are fast catching up are a good platform for such associations. "WebCerts not only allow fans to watch us perform live from the comforts of their homes but also makes it possible for us to cater to a larger crowd. I recently performed on ArtistAloud.com, one such digital platform, and felt that such set ups would facilitate coming together of artistes. This way both listeners and musicians are at an advantage. I wish to tie up with composer Karsh Kale next," she says.
Collaborations apart, Shilpa feels that Indian music is in one of its best phases. "With each film you find music taking on a whole new meaning." But is classical music getting its due too?
"Classical music is here to stay. It is a great reference point for present day music."
Lastly, does she think reality shows are an ideal jumping board for aspiring musicians? "Reality shows are good for people who have no contacts in Mumbai. Getting an opportunity to sing in front of music bigwigs is no joke. But everything boils down to how well you exploit the opportunity. One should also work on bringing life's experiences into music. Only then will one be able to establish a heart-to heart kind of connect!"
The bilingual singer, who wishes to sing for Tabu, currently has the films English Vinglish and Ek Mein aur Ek Tu in her kitty.