Cristiano Ronaldo's new haircut is quite similar has to Aamir's Ghajini near-bald crew cut look but will it have as many takers?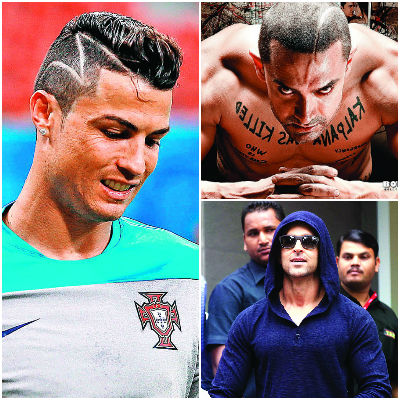 Recently Cristiano Ronaldo elicited a panoply of applaud, chuckles and a fusillade of scorn when he displayed his new haircut ahead of the World Cup match against USA early this week.
The zig-zag pattern shaved into the side of his head sent the critics into a tizzy, who were quick to thumb it down as the worst haircut in the football history. However, according to the avalanche of tweets accumulating on Twitter-scape, the Portuguese hottie's stripes weren't merely a style statement, but a noble show of solidarity for Erik Ortiz Cruz, a young boy in Spain who recently underwent brain surgery that was paid for by the Real Madrid superstar.
Ronaldo helped out little Erik by paying the entire £50,000 medical bill as soon as little Erik's plight was brought to his attention.
The haircut with the zig zag mark reminds us of Aamir Khan's epochal haircut in the blockbuster Ghajini which had fuelled a haircut frenzy of sorts with the superstar's fans cutting across age groups sporting the near-bald crew cut look.
In the southern remake, the actor essayed the role of a man who suffers from short term memory loss, is bashed up and the lines on his crew-cut represent the scars on his head.
Some haircuts like this go on to become iconic and we wonder if Ronaldo fans will sport the same zig-zag look sported by the Portuguese homme fatale in coming days.
Last year Hrithik Roshan underwent a brain surgery to remove a two-month-old clot. After being discharged from the Hinduja hospital he came out wearing a sweatshirt while covering his head with a hoodie.
The actor was operated for subdural hematoma (collection of blood in the space between the outer layer and middle layers of the covering of the brain) as a result of head injury he had suffered two months back while performing stunts for his upcoming film Bang Bang.